It is a routine practice by all companies around the world that they manufacture their products for an average regular size to capture the most percentage of users in the market. Mostly, they dont make products of too small or big size to save the cost as such products don't sell easily due to low demand. Like all other fields, companies that manufacture recliners focus on the average sized users. There are very few ones offering the heavy sized recliners. In this comprehensive guide, we discuss the top best recliners for big and tall people.
Our list includes the recliners that are ideal for folks who are 6 feet or taller and weigh over 250 pounds. Keep reading to find out all the details, and in the end you will be able to choose the right one that suits you well.
Recliners Benefits
Recliners offer multiple benefits, some of them are listed below:
Comfort and Relaxation: Recliners are designed to provide unparalleled comfort and relaxation. With their adjustable positions, you can find the perfect angle to relieve stress, reduce muscle tension, and unwind after a long day.
Improved Posture: Many recliners are ergonomically designed to support proper posture. They offer lumbar support, headrests, and cushioned armrests, promoting healthy alignment of the spine and reducing the risk of back and neck pain.
Pain Relief: Recliners can be beneficial for individuals with various health conditions, such as arthritis, fibromyalgia, or chronic pain. The ability to recline and elevate your legs can help alleviate pressure on joints, reduce swelling, and provide relief from discomfort.
Blood Circulation: By allowing you to elevate your legs, recliners can enhance blood circulation throughout your body. This can be particularly helpful for individuals with circulation issues or those who spend extended periods sitting.
Versatility: Recliners come in various styles, sizes, and designs to suit different preferences and living spaces. Whether you prefer a classic leather recliner, a modern fabric one, or a space-saving wall hugger, you can find an option that fits your aesthetic and functional needs.
Entertainment Convenience: Many recliners come equipped with built-in features such as cup holders, side pockets, or USB ports, adding convenience to your entertainment experience. You can keep your drinks, remote controls, or electronic devices within easy reach while enjoying your favorite movies or shows.
Improved Sleep Quality: Recliners can also serve as comfortable alternatives to traditional beds, especially for individuals with certain health conditions or mobility issues. The ability to adjust the reclining angle and find a position that supports proper alignment can contribute to better sleep quality.
Stress Reduction: The gentle rocking motion that some recliners offer can have a soothing effect, helping to reduce stress and promote relaxation. It can create a tranquil environment for reading, meditating, or simply unwinding.
Customizable Comfort: Recliners often come with adjustable features, such as reclining angles, footrest positions, and even massage or heat functions. This customization allows you to find the optimal level of comfort for your individual preferences and needs.
Bonding and Connection: Recliners can be a great way to bond and connect with loved ones. Whether it's cuddling up with your partner or snuggling with your kids or pets, recliners provide a cozy and inviting space to spend quality time together.
Enhanced Productivity: Some recliners are designed to serve as functional workspaces. These recliners often feature built-in desks or trays, allowing you to comfortably use your laptop, read, or work while still enjoying the benefits of a reclining chair.
Improved Mobility and Independence: For individuals with limited mobility or those recovering from surgery or injuries, recliners can provide a sense of independence and ease. The ability to effortlessly change positions and safely get in and out of the chair can contribute to a greater sense of freedom.
Aesthetically Pleasing: Recliners now come in a wide range of stylish designs and materials, making them a visually appealing addition to any room. You can find options that seamlessly blend with your existing decor, adding both comfort and style to your living space.
Durability and Longevity: High-quality recliners are built to last, with sturdy frames and durable upholstery. Investing in a well-made recliner means you can enjoy its benefits for years to come, making it a worthwhile investment for your overall well-being and comfort.
Therapeutic Benefits: Recliners equipped with features like heat therapy, massage functions, or zero-gravity positioning can offer therapeutic benefits. These features can help alleviate muscle tension, promote relaxation, and provide temporary relief from conditions such as chronic pain or soreness.
Best Recliners for Big and Tall: Collection
Big & Tall Seatcraft Pantheon Recliners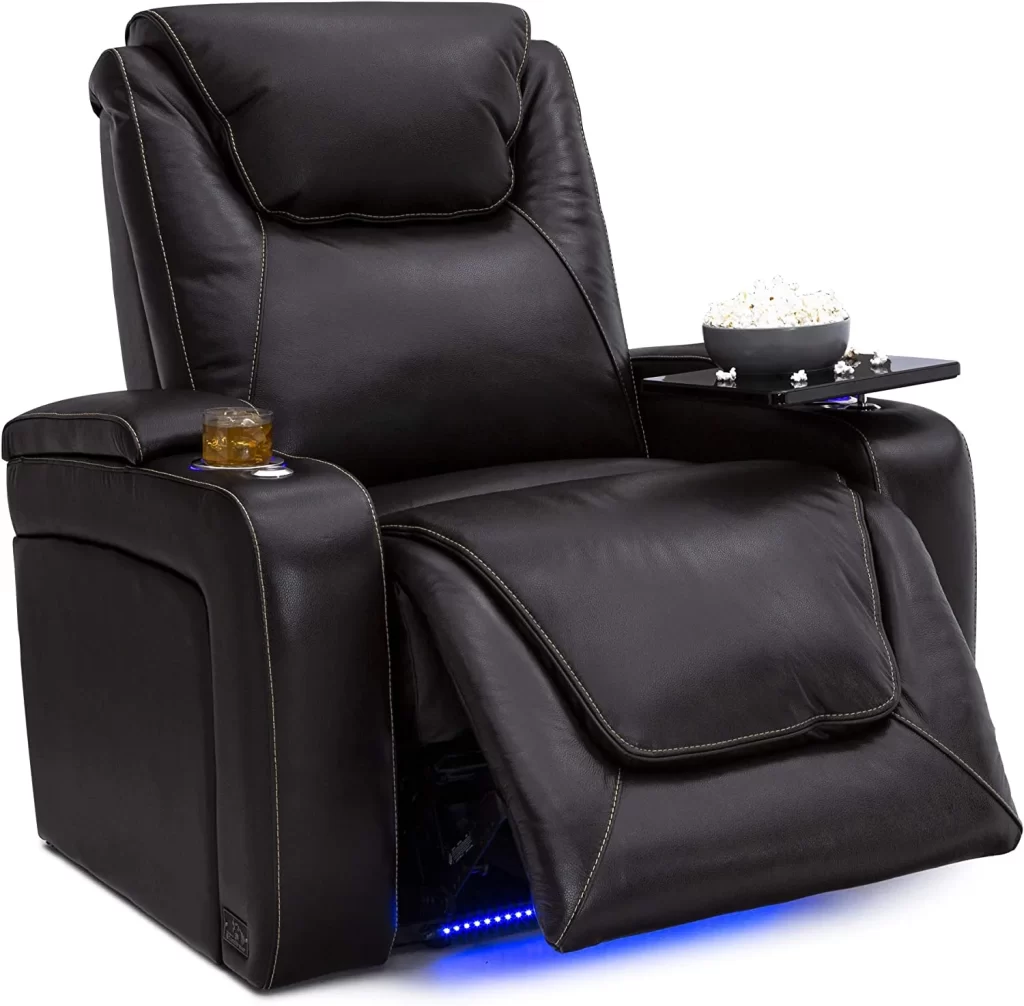 Unlike standard sized chairs, this chair is wider, taller, and can support up to 400 lbs – nearly twice the capacity of regular recliners. Hand-selected from the top 30% quality of hides, its genuine top grain leather offers a touch of opulence and exceptional durability. With powered recline, adjustable powered headrest, and adjustable powered lumbar support at your fingertips, you'll enjoy a level of comfort like never before. 
The chair features lighted cup holders, hidden storage compartments, built-in SoundShaker bass shakers, and swivel tray tables. With dimensions of 45″ H x 42.5″ D x 40″ W (fully reclined at 72″ D), this chair offers generous seating and a luxurious experience. We found it perfect for people under 6.5 feet tall. 
Lift Recliner Chair for Big and Tall Pregnant Woman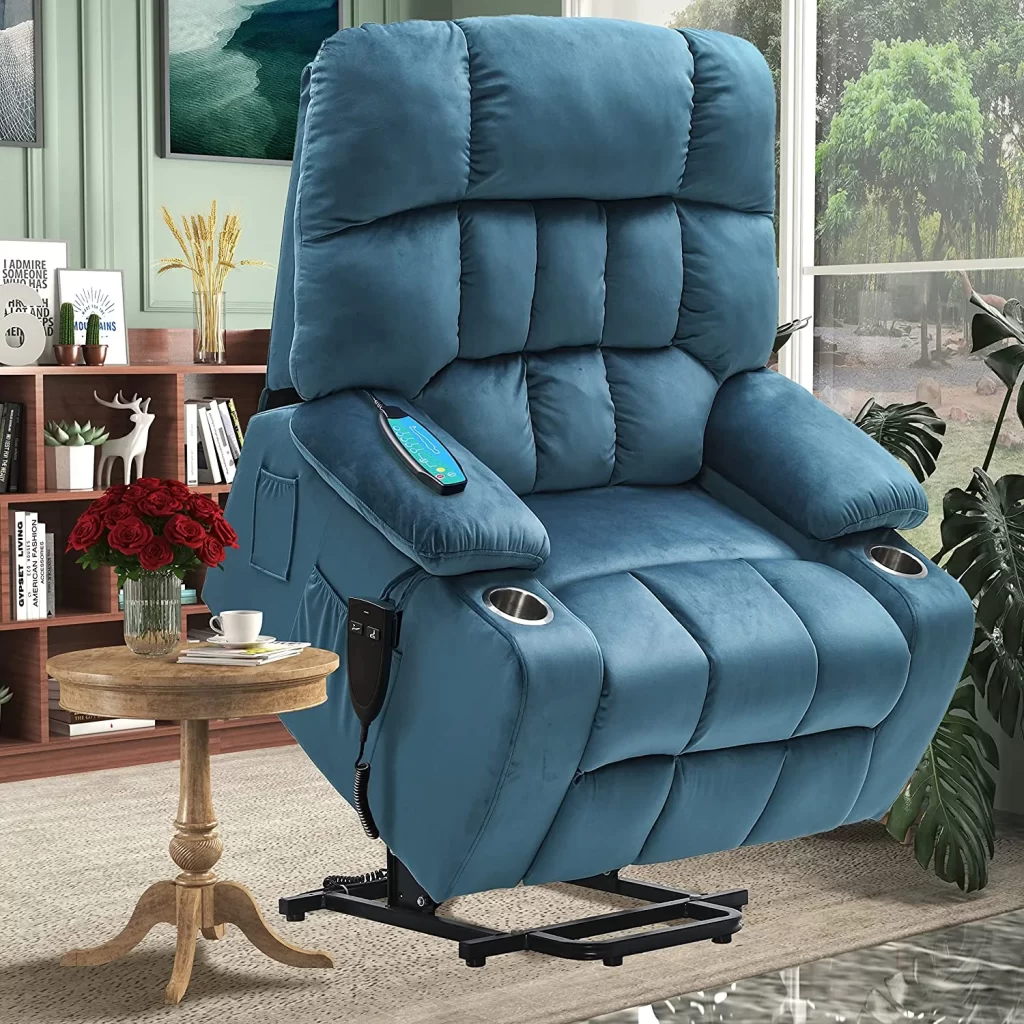 The seat width between handrails is perfect for larger individuals, and the dual remote control design is incredibly convenient, especially for those with limited hand mobility. The UL Approved German OKIN Silent Lift Motor and LVL system make standing up a breeze, while the chair's ability to recline up to 170 degrees provides maximum comfort. Its high-density foam ensures excellent support for the head, back, waist, buttocks, and legs, allowing for long sitting sessions without discomfort. 
The back and leg massager with heat function is a fantastic bonus, offering various massage modes and timers for optimal relaxation. Assembly is straightforward, and the customer service provided is excellent. It would be a good recliner for guys with height around 6.4 feet.
Big & Tall Seatcraft Julius Recliners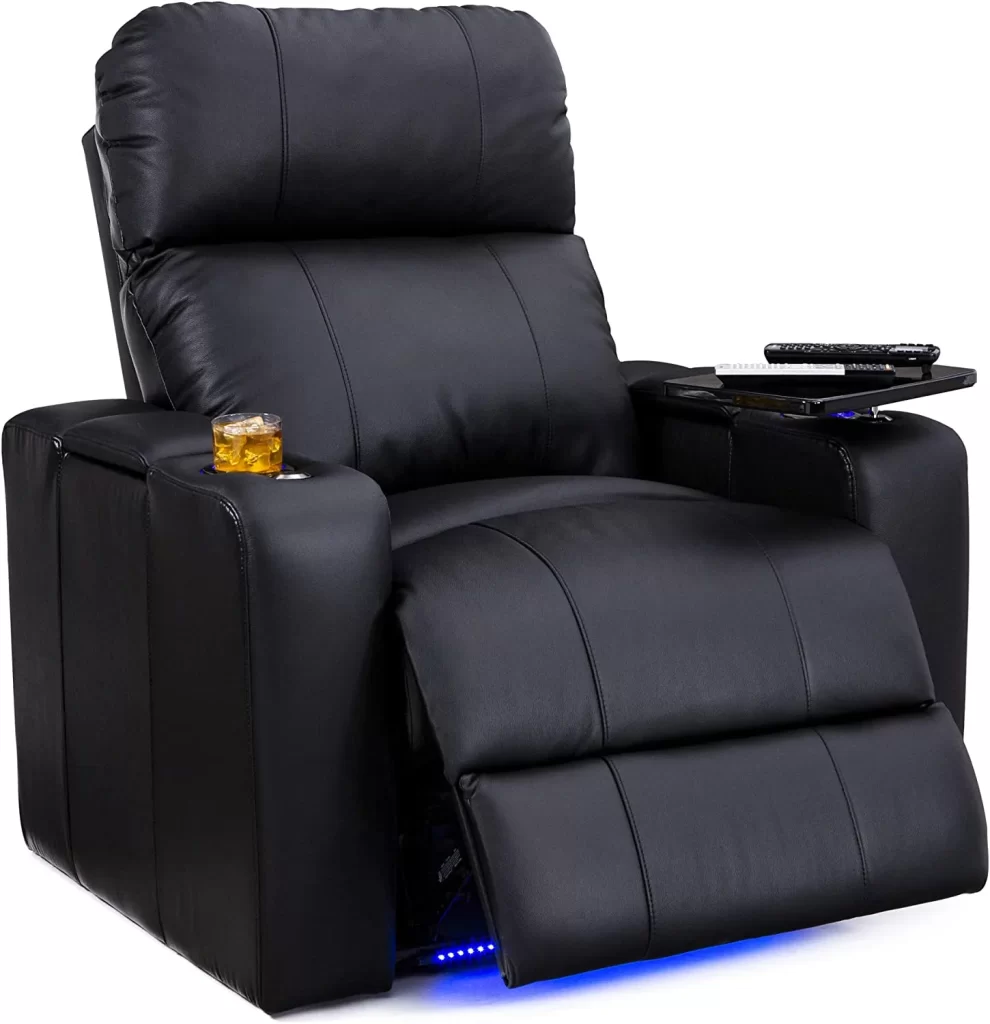 These recliners have been designed for those who need more space and support. They can handle up to 400 lbs, almost double the capacity of standard chairs. Carefully manufactured from the finest top grain leather, these chairs offer a luxurious look and exceptional durability. You will be getting ultimate comfort with powered recline, adjustable headrest, and memory function at your fingertips. 
The chair features lighted cup holders, hidden storage compartments, and a swivel tray table. With the dimensions of 45″ H x 41.5″ D x 41″ W (fully reclined at 70″ D), it would be an ideal one for people with height more than 6 feet.
CHITA Power Recliner Swivel Glider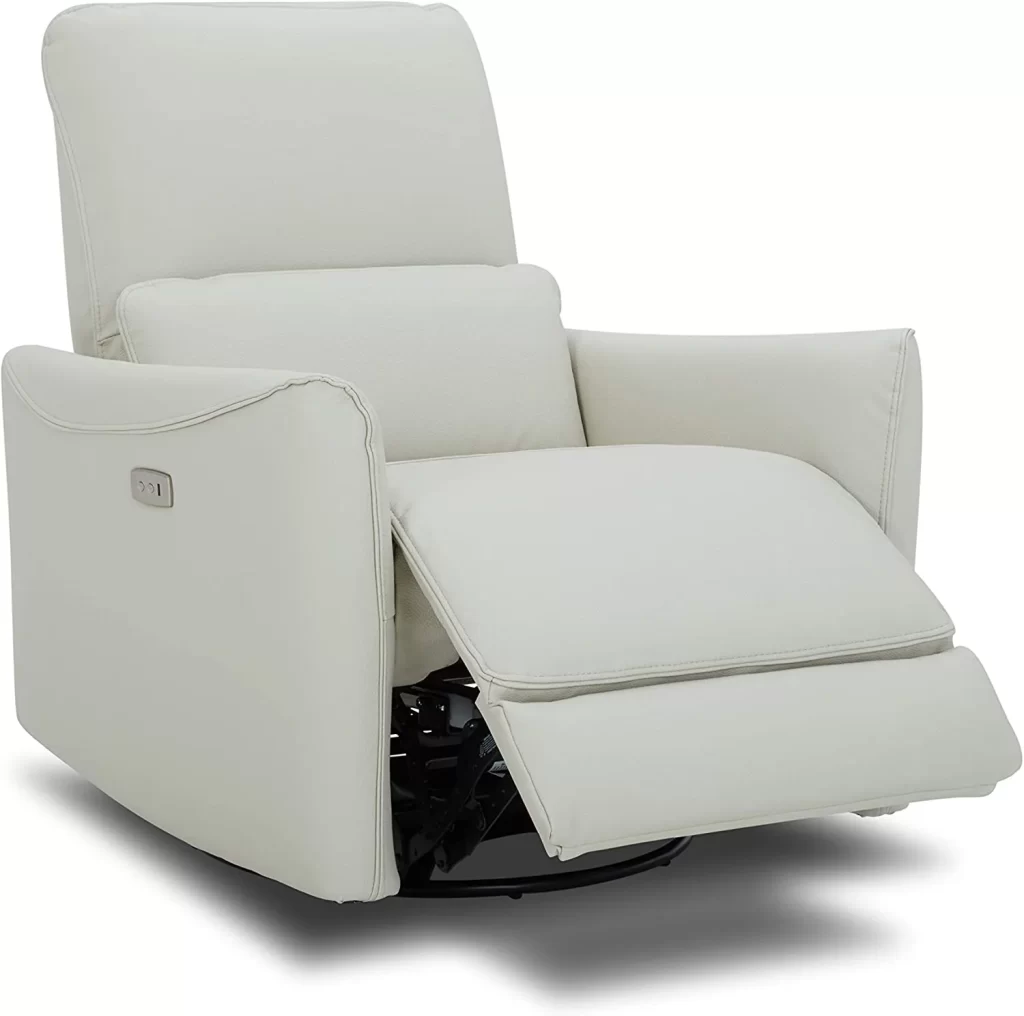 Designed with mom's comfort in mind, this chair offers a 270-degree swivel, glide, and smooth recline function, all easily controlled with the push of a button. The recliner angle range of 90-135 degrees provides flexibility for maximum comfort. The chair's durability is impressive, with a Leggett & Platt mechanism that has passed a rigorous life test and a weight capacity of up to 350 lbs. 
The extending footrest and fixed lumbar cushion add to the relaxation factor. With built-in USB charging ports and simple assembly, this chair offers convenience. With a one-year warranty, it's a reliable and comfortable choice. We found a  minor issue in the assembly process, but the chair's features make up for it.
Oversized COOSLEEP  Recliner Chair
Designed specifically for larger individuals, this chair's longer backrest of 28 inches and deeper seat of 23 inches provide exceptional comfort and support. The footrest conveniently pops out automatically, and with a simple lean backward. The chair reclines smoothly, allowing for a perfect angle for resting or even sleeping. It comes with a highly resilient foam backrest and seat cushion. Moreover, the usage of the inner springs helps to relie the muscle fatigue and provide ultimate sitting comfort. 
There is a  breathable fabric material that prevents sweating during long sitting sessions. Installation is easy peasy , and the oversized size is a bonus. It's perfect for living rooms, bedrooms, and even theater rooms. While the chair offers an excellent experience overall, the minor issue is that it may require contacting customer service for any missing parts or transportation issues.