We immediately start thinking about floating like astronauts when we say zero gravity. Yes, you are right as a zero gravity chair is designed to give a "floating" sensation. The chair provides the ultimate next level of relaxing experience.
A zero-gravity chair features anti-gravity technology that evenly distributes your weight across the chair, greatly reducing gravitational stress. It has a kind of flat recline sitting to keep your spine naturally aligned, relieving pressure and stress while giving a weightless feeling.
Why do they call it a Zero Gravity chair?
NASA introduced the concept of zero gravity to minimize the gravitational effect on astronauts while they leave the orbit of the earth. Inspired by this, the furniture industry applied the same idea to the chairs to give a weightless and pressureless sitting experience.
Listen, guys these chairs do not remove gravity at all. In fact, these chairs technically defy gravity to make you more relaxed and comfortable.
Zero Gravity Chair vs Recliner
The main difference between a zero gravity chair and a recliner is that the first one evenly distributes your weight by suspending you, while the latter keeps you relined, putting most weight on the lower back and pelvis. The earlier proved much more comfortable than the latter.
Main Features
These chairs come with the following features:
Adjustability
These chairs are highly flexible and can be adjusted to multiple positions from 0 degrees to 170 degrees. There exist a locking system that allows you to lock the chair at your preferred position. 
Foldable
As a foldable chair, it can be folded and packed whenever needed. We were surprised that it took a couple of seconds to fold and unfold. The lightweight and easy folding make them ideal chairs to be moved from one place to another. They are easy to carry when traveling.
Locking Recline System
Though these chairs are famous to keep the user in a suspended and floating position, we can lock them at different reclining positions. The locking system adds more beauty to the customization of the chair.
Wide Seat
These chairs have wide seats to provide enough space so that you can easily move around when reclining. Some of its designs come with soft padding which makes these chairs extremely comfortable and relaxing.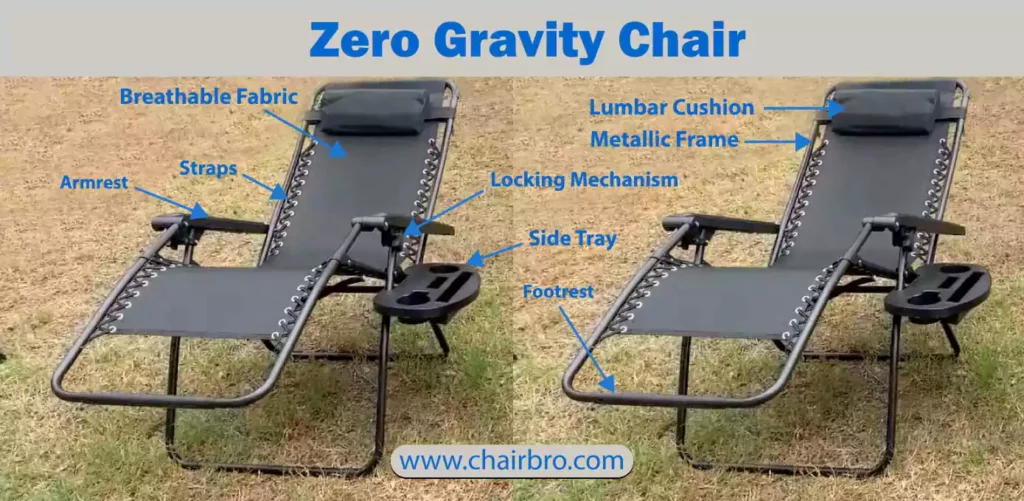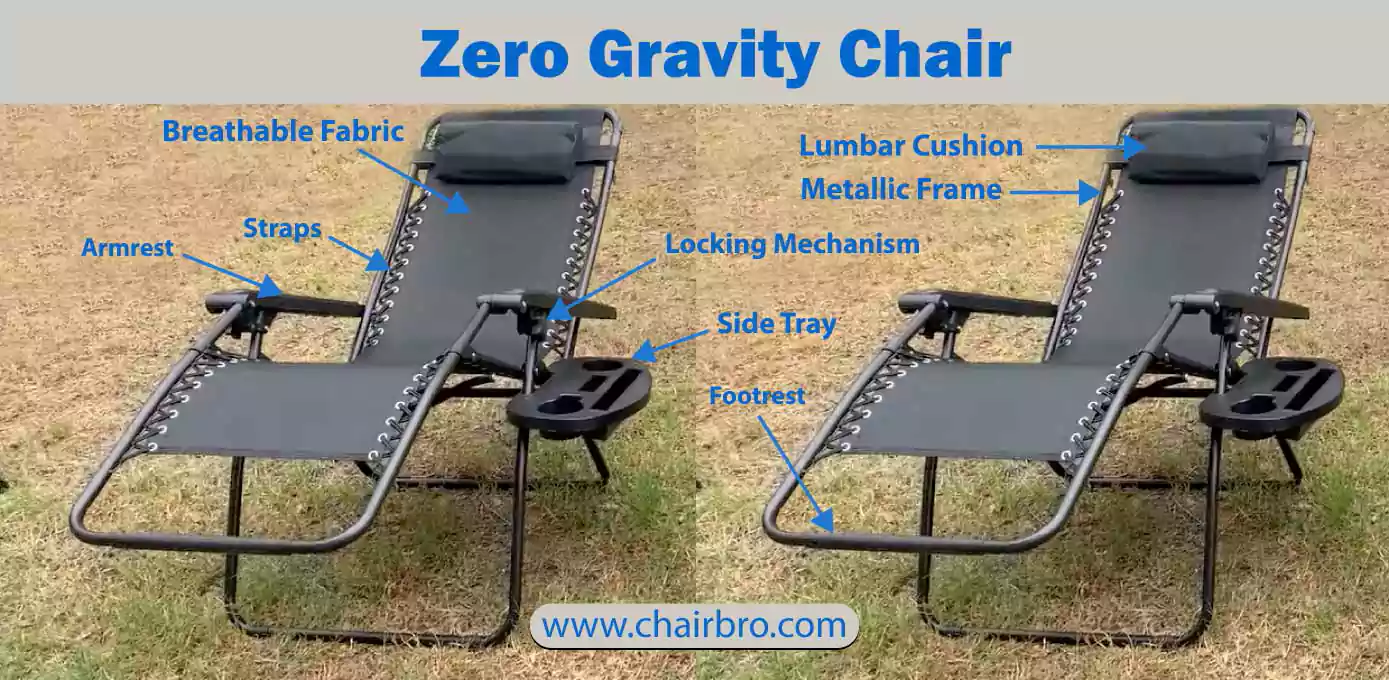 Heavy Duty Built
Don't expect it a delicate chair, in fact, it has a sturdy build and can support heavyweight users. The chair has excellent construction as it has to keep the user in a suspension state, which could otherwise be not possible by a weak chair.
Lumbar Support
These chairs have well-built movable lumbar cushions to provide lower back support. Other than supporting the lumbar region, the lumbar cushion can be used as a pillow when reclining. I really love its mobility of moving up and down, allowing me to enjoy custom support.
Ergonomics
Upon testing multiple times, we have found zero gravity chairs extremely comfortable. The chair carries all the features that ideal ergonomics chairs have. We found that it magically makes us relaxed. The fun part is that it keeps us floating like a kid.   
Being flexible in terms of adjustability, the chair provides custom support at multiple positions, whether it is an upright position or a reclined one. 
Soft and wide padded seat significantly removes back pain by keeping the body in a neutral posture. The suspended position minimizes the gravitational force and quickly eliminates the pressure. 
The moveable lumbar cushion plays an important ergonomic role by relieving lower back pain.
The seat and back of the zero gravity chair have significant ventilation to let the air pass through. This keeps the whole body cool, helping in long sitting sessions.
Is it safe for back pain?
A zero gravity chair is always safe for your back as it distributes the body weight evenly, removing the load on your lower back. This minimizes gravity and reduces the pressure on the back and pelvic region. Unlike a typical chair, it quickly dilutes back pain, proving it an ideal relaxing chair.
Are these chairs good for the beach?
Yes, these chairs are good for the beach, patio, park, camping, yard, or balcony. These lightweight foldable chairs are easy to carry at outdoor places and proved the best relaxing chair.
Price Range
Unlike typical high-cost recliners, these chairs cost a small price. It costs a bit more in case of more customization and functions such as cup holder, headrest, etc. After all, we didn't find it an expensive chair.
Usability