Being a tall person, most users sit on office chairs with wrongly folded knees and unhealthy posture, resulting in back & neck pain, spinal dysfunction, muscle strain, and other serious health issues. This could be more alarming during long hours of sitting. There comes a need to use a right-sized ergonomic chair as it not only proves important for our health, it greatly boosts productivity by keeping us comfortable in a balanced way.
Whether you're a male or female, more height makes you unique and different, but it creates some problems when it comes to shopping for a product. In all fields, every brand focuses on average sized users, and it becomes difficult for tall guys to choose the size of their choice. The same is the case with office chairs where a tall person feels stuck to pick the right chair. This article will cover each and everything you should consider when choosing an ergonomic chair for a tall person. We will make it easy for you to get the best chair for a tall person.
Who is considered tall?
We usually measure the height by finding the distance between the sole of the foot and the top of the head in a standing, erected body. In common practice, a person having a height more than the average height of the rest of the population is considered tall. As per the report (2018) by CDC National Health, the males have an average height of 5 feet 9 inches, and the females have an average height of 5 feet 4 inches. Hence a person of more than 6 feet height is considered "tall" (source).
4 Factors to Consider in an Office Chair for Tall People
We should consider the following four features in an ergonomic office chair when choosing it for tall people.
Seat height,
Seat depth & width
Lumbar support
Weight holding capacity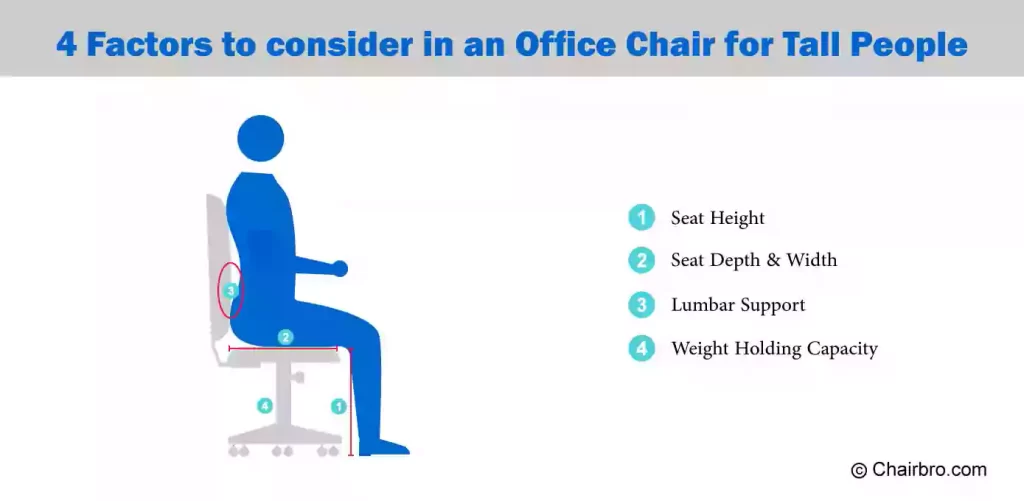 Seat Height
One of the first and main features we consider in an office chair is seat height. It must have a maximum seat height to easily accommodate your legs. More seat height allows you comfortably handle your legs and feet. A seat height is considered best if you can keep your knees at an angle of 90 degrees while holding both feet flat on the floor. You can also get the general idea of user height and seat height relationships by looking at the table.
Seat Depth & Width
The second important factor a chair must have is maximum seat depth. More seat depth has been found comfortable, providing more space to let us slip back and forth. Due to the large limbs, tall people feel relaxed in a more spacious seat rather than being occupied in a narrow seat. It would be much better if the chair comes with adjustable seat depth as it will allow you to customize the seat depth to your choice. The chair for a tall person must have a minimum seat depth of 18 inches.
Similarly, more seat width proves beneficial for tall users as it provides more space to sit. You will have enough room to rest and manage your thighs. We can get this feature in most of the mid and high-end ergonomic office chairs as these chairs come with sufficient seat width. Minimum seat width of 17 inches or more is recommended for any tall people.
Lumbar Support
Though some people neglect the lumbar support, it proves highly beneficial when choosing the ergonomic chair for a tall person as these people unintentionally slouch back more than average people, resulting in postural kyphosis. For such people, there is more need for lower back support. The chair with good lumbar support provides comfort and support to keep you in a healthy posture.
Some chairs come with fixed while others have adjustable lumbar support. Though both types of supports proved beneficial, the chair with adjustable lumbar support is considered excellent as it allows us to adjust the lumbar to our choice.
Weight Holding Capacity
A chair must be strong enough to support a load of a tall person as some of the guys weighs more than an average limit. A chair with a sturdy and strong frame can easily hold the tall guy. The chair for tall people should have a minimum of 250 lbs weight capacity, even though some chairs offer a weight capacity of 500 lbs or more.
Best Ergonomic Office Chair for Tall Person: Collection
Based on all the factors discussed above, here is our collection of the best office chairs for tall people.
Secretlab TITAN Evo XL 2022: Most Heavy Duty Chair for Tall person
Secretlab Titan Evo Extra-large (XL) 2022 is one of the best chairs for a tall person. The gaming version chair suits well to people between 5'11" – 6'9″.
The padding on the Titan Evo is made of premium quality cold cure foam, ensuring all day comfort. The high-end ergonomic chair comes with strong metallic 4D armrests which can be adjusted in 4 ways (height, width, depth, and pivot). Its armrests have swappable arm pads. Need support for head and neck! This beautiful chair features a unique, strapless magnetic memory foam head pillow. With its reclining function, you will be able to lean back up to 165 degrees. Moreover, it offers a multi-tilt mechanism.
The Titan Evo 2022 has an advanced 4-way built-in adjustable lumbar support, offering more personalized back support. It has a strong frame and base made of steel and aluminum, respectively, making it capable to withstand heavy loads of up to 395 lbs. The TITAN Evo 2022 has an upholstery of soft premium leatherette which is 12 times more durable than typical PU leather. For your peace of mind, the brand offers a great package of warranty for up to 5 years.
HON Wave Mesh: Best Executive Mesh Chair for Big and Tall People
Hon Wave Mesh got the second spot in our best executive mesh chairs for big and tall people. If you are 7 feet tall or under, this is one of the most durable breathable chairs with a high-quality mesh seat and back.
The wider seat accommodates users of different sizes. A high quality gas lift provides a seat height of 18 to 22.25 inches, making it best the chair for a tall person. The mesh seat and back along with lumbar support provide excellent comfort and support.
Like other ergonomic features, Hon Wave Mesh has height and width adjustable armrests so that you can comfortably work at your desired positions. The chair comes with a synchro-tilt mechanism, the best mechanism for office and executive seating. It will keep the feet flat on the floor when the chair tilts back. There is an upright tilt lock, which lets the user in a healthy posture. The chair with a steel frame and reinforced resin base can hold a maximum weight of 450 lbs.  You will get this chair with a 5-year warranty.
Amazon Commercial Ergonomic Chair: Best Budget High Back Chair for Big and Tall Guys
Amazon ergonomic chair is one of our most liked, best budget high-back chairs for a tall person. The chair suits best the users between 6' and 6'.9″. It has sufficient seat space and a seat height from 19 inches to 22 inches.
The commercial ergonomic chair comes with segmented paddings on the seat and back. Upholstery of bonded leather makes the chair stylish and durable. The flip-up arms have soft paddings, providing comfort and support, and can be flipped back when you like freestyle sitting. Plus, it features a cable-actuated tilt, lock, and lumbar support. The lumbar zone expands and contracts when you lean forward and back, providing essential lower back support.
Safco Vue Heavy Duty Stool: Best Extended Height Chair for Heavy and Tall Users
The Vue Heavy Duty Stool is the best stool for tall people. With a wider seat, heavy-duty design, and extended height of 23 to 32.5 inches, it can easily accommodate any tall person up to 350 lbs.
The soft padded seat provides comfortable seating. While the mesh back not only serves as soft support, but it keeps your body cool in a hot and stressed environment. Usually, the stool does not have armrests. If you still need armrests, you can get them as an optional accessory.
With Vue Heavy Duty Stool, you will be able to tilt back and lock the posture. Plus, it has a height adjustable ring footrest with a height range of 9 to 15.5 inches.  There comes a strong steel frame and base to support heavy loads of up to 350 lbs.
Gates Genuine Leather Chair: Most High Back Executive Chair for Tall Person
The Gates genuine leather chair with a polished aluminum base is the best high-back executive chair for a tall person. It suits best the users between 5'.9" and 6'.7". It can withstand a maximum load of 395 lbs.
Gates chair features an advanced synchro-tilt mechanism, reclining both seat and back at a 1:2 ratio. This prevents the rocking chair effects and keeps your feet on the floor. Plus, it can be tilted back up to 120 degrees. The chair has a waterfall seat edge design, reducing the stress on knees and limbs. The premium high-density padding on the seat and back provides comfort and support during long sitting sessions. The contemporary style high-back ensures a comfortable workplace.
RESPAWN 110 Gaming Chair: Most Affordable Racing Style Chair for Tall People
RESPAWN 110 is one of our best affordable racing style chairs for tall people. The wider sear, more seat height, and adjustable lumbar support make this chair best for persons between 5".9' and 6'.6".
Other than a padded seat and back, the RESPAWN 110 features an extendable footrest to support your feet and legs. It also has a height adjustable lumbar to give you personalized lower back support. Moreover, it comes with an adjustable headrest pillow, providing neck and head support. The premium looking RESPAWN 110 allows a reclining between 90 – 155 degrees with infinite locking positions. It offers a great package of 5 years warranty.