The professionals like architects, artists, calligraphers, etc. need to work on elevated surfaces/desks.  They use a chair with more seat height, called a drafting chair. The drafting chair comes with more seat height and a circular ring-like footrest. The ring-like footrest found above the chair base supports the feet. While the high seat lets you work/draft easily on the elevated surfaces.
Equipped with an extended pneumatic cylinder, a drafting chair offers more seat height. It comes with an adjustable backrest, armrest, and footrest. Drafting chairs are available in different designs, shapes, colors, and materials.
The main features of the drafting chair are listed below.
The seat height of the chair ranges from 25-to 37 inches.
A has a metallic ring for the footrest.
The headrest is usually absent.
Armrest may be present or absent.
The backrest is present in all chairs. Even, there are designs with removable backrests too.  
Parts of a Drafting Chair
Chair Base
Footrest
Extended Chair Gas Cylinder
Seat and other features
Chair Base
The base of a drafting chair is the same as traditional office chairs. Mostly, the chair base has five arms. It usually comes in a composition of a metal or heavy-duty plastic materials. The chair base comes with caster wheels.  Some chairs have double caster wheels, while other designs offer glides instead of casters.
Footrest
A circular ring called a footrest is present in every drafting chair. The footrest is located a little above the base of a chair. Due to the more seat height of a such chair, the user can easily rest the feet on a circular footrest. Most of the footrests come in metal. with most footrests available in a circular design, you can get other designs too.
Extended Gas Cylinder
An extended gas cylinder or lift has been found one of the important parts of a drafting chair. Unlike a normal gas cylinder, the extended cylinder raises the seat to more height, making the drafting chair/stool unique from other chairs. the extended gas cylinder costs more as they have better quality and the ability to raise the seat to a higher level.
Seat and other features
All of the drafting chairs have adjustable seat height. The height can easily be adjusted by an extended gas cylinder. The chair seats are comfortable and usually lack a headrest.
Armrest may be present or absent. While others have adjustable armrests.
The back of the seat is comfortable, and it can be removed in some of the designs.
A tilt-lock is present in some of the drafting chairs. Equipped with a waterfall seat design, the chair offers more comfortable sitting.
What is a drafting chair used for?
This chair is used to work on elevated surfaces/desks. The professionals like draftsmen, artists, sketch makers, lab workers, booth operators, etc. use the drafting chairs. Such professionals found the drafting chair more convenient as its seat height can easily be adjusted according to the need.
The chair is compatible to work on higher surfaces. The chair helps the user to comfortably work by keeping the correct posture of arms and legs. They are a good fit for taller people. With multiple applications, these chairs can be used in theatres, studios, receptions, etc.
Moreover, the people who work on the standing-height desk use drafting chairs. A standing desk has more height and a normal office chair cannot be used for it. Only a more-height drafting chair is considered ideal to work on a standing desk.
Drafting Chair vs Office Chair
Drafting chairs differ from task chairs by having extra seat height and a footrest.  Task chairs or office chairs are daily-used chairs for normal desks while drafting chairs are specifically used for elevated surfaces/desks.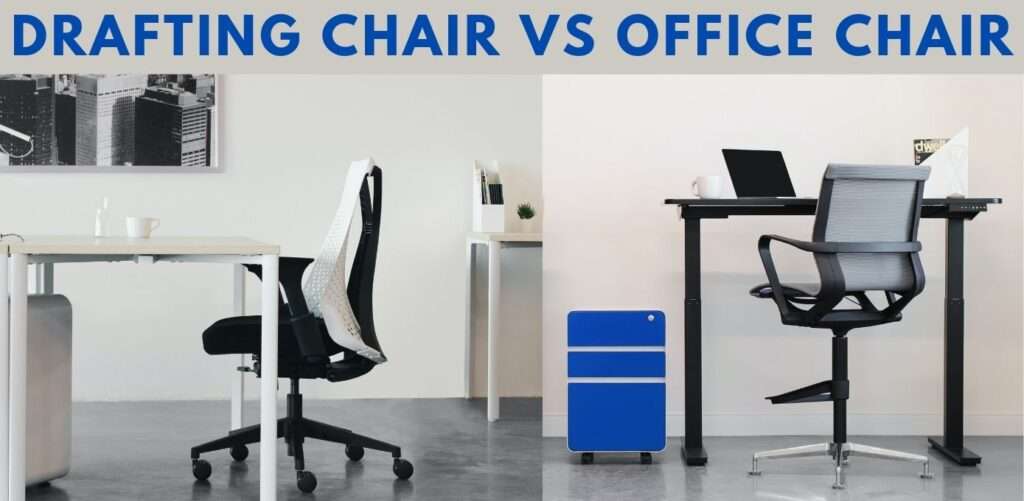 Drafting Chairs
In addition to providing more seat height, these chairs offer better ergonomic features. The seat height of the chair helps the user to have a healthy posture while working on high surfaces.
The footrest of the drafting chair helps in healthy posture, body alignment, and blood circulation. By providing better support, the footrest boosts productivity, comfort, and overall work progress.
The backrests of modern drafting chairs can be adjusted in multiple ways. With an adjustable tilt tension, you will be able to adjust the recline resistance. Even, the backrest can be locked at different angles. Moreover, there come the designs that let to remove the backrest.
Majority of these chairs don't have armrests, however, there come the designs that have fixed and adjustable armrests. Don't expect a headrest with such chairs.
Office Chairs
Having an ideal seat height, these are the most used chairs nowadays. Task chairs offer more ergonomic features than drafting chairs.
The office chairs have adjustable backrests and headrests. With these features, the chair reduces back and neck pain.
Most of the office chairs come equipped with lumbar support. With excellent lumbar support, the office chair keeps the alignment of the shoulders, ear, and hip. Some of the designs have adjustable while others come with built-in lumbar support.
Drafting chair vs Office chair: Brief Comparison
Features
Drafting Chair
Office Chair
Footrest
Yes
NO
Gas Cylinder
Extended gas cylinder
A
Normal gas cylinder
Headrest
Absent
Present
Seat height
25-37 inches
16-21.5 inches
Functionality
To work on elevated surfaces/desks
To work on standard-height desks
Armrest
Present or absent
Always have armrests
Tilt lock
Present in drafting chairs
Present in office chairs
Backrest
Usually present, some design lacks
Always present
Drafting chair vs Office chair: Comparison
What makes a good drafting chair?
A good drafting chair comes with the following features.
Best quality gas cylinder.
Adjustable footrest.
Strong and durable materials.
Adjustable or removable backrest.
Adjustable or removable armrests.
Better tilting mechanism.
Mesh fabric.
Excellent lumbar support.
Waterfall seat design.
Dual wheels.
Comfortable seat cushion.