Designed for outdoor lounging, Adirondack chairs are the most durable and long-lasting chairs. The chair has a simple design. The flat wooden boards make the backrest. The seat offers more space, not only for sitting but for leg support too.
The sloped seat is best for napping and lounging. The simple wide wooden boards make the armrests. Unlike other furniture chairs, Adirondack chairs are evergreen and are always in demand. The backyard's furniture is incomplete without Adirondack.
There are multiple reasons Adirondack chairs are so expensive.
1. Durable
High-quality material makes the Adirondack chair durable outdoor furniture. Such chairs can withstand different types of weather. They work well both in hot weather and snowfall too. This is just because of high-quality material which costs money.
Durable Adirondack chairs do not break quite frequently, and they save your money from the new purchase and maintenance. Proper cleaning and dusting can greatly enhance the chair's life.
Being durable, and resistant to the wind, water, rust, etc., such chairs can stay outside around the year. In cold areas, proper covering enhances the life of Adirondack chairs.
Adirondack chairs have more prices due to their high quality. Usually, the Adirondack chair is found to be a one-time purchase item.
2. High-Quality Materials
Different types of materials like metal, plastic, and wood make Adirondack chairs.
Metallic
Metal is not popular for Adirondack Chairs among users.
Plastic
The HDPE (high-density polyethylene), a high-quality plastic found to be a more used material for Adirondack chairs. It is the most liked material among the users. With great resistant properties, HDPE can withstand different types of weather.
The plastic is waterproof and resists bacteria, fungus, mold, and rotting. Being a non-porous material, it is easy to clean.  
All the above properties make the HDPE an ideal, durable, and perfect material for Adirondack chairs. Being an expensive material, HDPE makes Adirondack chairs expensive.    
Wood
The most commonly used material for Adirondack chairs is wood. The manufacturing requires specific types of wood, as these chairs need to stay outside throughout the year.
The most popular wood for the Adirondack chairs is teak wood. Other than teak wood, cedar, oak, mahogany, cypress, and eucalyptus can be used too.
Teak Wood
Among wood, teak is considered best for Adirondack chairs. Such type of wood is corrosion resistant and has less shrinkage. Teak is an expensive wood because of high demand and resistant properties against water, pest, and rotting, which makes it best for outdoor furniture. (Source)
Teak wood makes the Adirondack chairs so expensive.
Pine
Pine wood is readily available and comes at reasonable prices. The wood may rot and damage easily. Chairs made of pine wood are cheap. Proper maintenance and protection from the water help the chair last longer.
Cedar
Cedar wood has oil which makes it resistant to water and insect. The cedar wood does not rot quickly. With weather-resistant properties, it is an excellent wood for outdoor furniture. Luckily, cedar is widely available. With just little maintenance, it can last for years.
Adirondack chairs require a lot of wood, which raises the prices more.
Oak
Oak is naturally resistant to insects and rotting. But it is susceptible to water damage. Adirondack chairs made of oak wood are in big demand. Among wood, it proves to be one of the durable and tough materials.
Mahogany
Mahogany is a hardwood that offers a nice reddish warm look and durability. Real mahogany is very expensive because of its appearance and quality.
Cypress
Cypress wood offers good resistance against moisture, bugs, and UV rays of the sun. In addition, it has anti-rotting properties. If maintained well, Adirondack chairs made of cypress wood may last for years. The cypress is an expensive wood, and it is one of the factors that Adirondack chairs are so expensive.
Eucalyptus
Eucalyptus wood lacks resistance against water, insects, and rotting. To enhance durability, such type of wood requires proper maintenance. The sealants can help the eucalyptus to last longer.
The costly wooden material is one of the major factors behind the high prices of Adirondack chairs.
3. Warranty
Adirondack chairs come with different warranty packages. It depends on the quality and type of material used.
Most manufacturers offer a lifetime warranty on their Adirondack chairs.  Suc chairs last longer. Such chairs may rarely have an issue.
The chairs with a lifetime warranty have more prices. A small portion of the big price goes by the manufacturer for repairing purposes.
The warranty covers the repairing if an Adirondack chair may get damaged. Such repairing is supported by the money which comes from the initial sale of high-priced Adirondack chairs.
4. Design Aesthetics
Adirondack chairs have a typical design, totally different from other types of chairs. The unique design makes the Adirondack chairs more expensive.
Made of wooden boards, the chairs have wide armrests. The chair has a tall slatted wooden back which gives an elegant look. The slated seat of the Adirondack chair is higher in front than in the back.
Unlike other chairs that have similar designs, the Adirondack chairs come with a kind of standard/unique design. Such distinctive design consumes a lot of quality material (especially wood) for production, which makes the Adirondack chairs more expensive.
5. Grace
Adirondack chairs are cool and graceful. A visually appealing and high-quality chair always has higher prices for it. The manufacturer uses the best materials to give the chair an elegant look. This in turn makes the Adirondack chairs more expensive.
6. Manual Manufacturing
Manual manufacturing of Adirondack chairs is a time-consuming, and expensive process.
Manufactured by the assembly line and in bulk quantity, the traditional chairs consume less time and energy.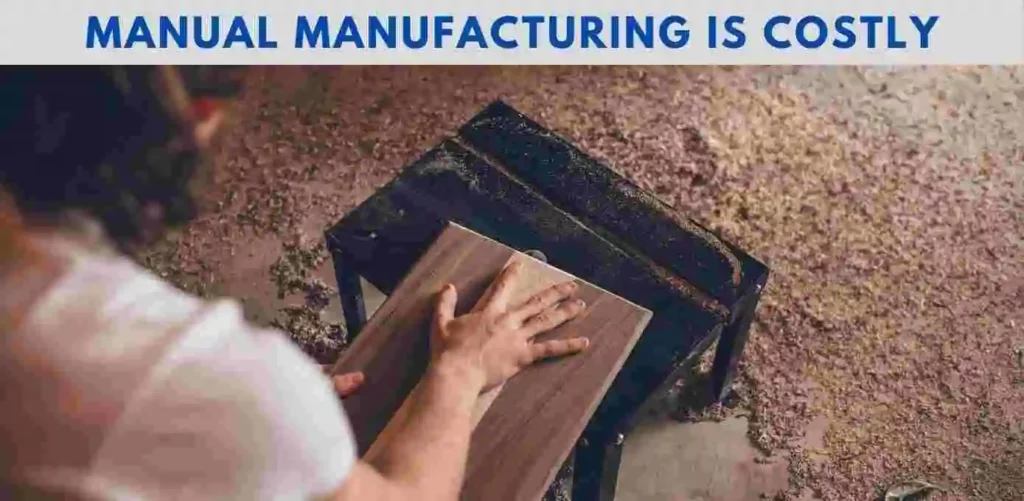 In contrast, Adirondack chairs are manufactured better by the manual way rather than automatic way. Plus, they take more time to manufacture. Manual labor costs more. The cost of manual labor is one of the factors for the high prices of Adirondack chairs.
7. Customization:
Customization is one of the factors behind the high prices of Adirondack chairs.
All of the customizations require different types of materials like paint, stain, brushes, etc. All such types of materials are costly, which in turn makes the Adirondack chair more expensive.
8. Weather Resistance
A good Adirondack chair always comes with weather-resistant properties. As the chair is outdoor furniture, it must be strong enough to withstand the harsh conditions of the weather.
The chair needs to stay outside round the year, and mostly without any shelter or covering.
It may be placed in the backyard, beach, front porch, around the fire pit, garden, or lawn. The chair should be resistant against rainwater, snowfall, and ultraviolet (UV) rays of sunlight.
There must be resistance against mold, mildew, and rotting. The chair material should be rust and corrosion-resistant.
To cope with harsh weather, the manufacturer uses high-quality material. As the high-quality material costs more, it makes the Adirondack chairs more expensive.
9. Labor Cost
Being paid more than the minimum wage, the carpenters who make Adirondack chairs have specialized skills. The more wage payment makes the Adirondack chairs more expensive.
10. Best Napping Chair
Adirondack chairs are well known for outdoor napping. The slanted seat which is raised from the front and lowers at the backside is best for napping. Some users like to nap on the lawn, while others enjoy the beach view.
Adirondack chair, a reclined chair designed in a way to support your back and bottom while napping. Being popular for napping, it has more demand among the users. The manufacturers know this, and they cash the popularity of Adirondack chairs by selling them at higher prices.
11. Comfortable Chair
With reclined back and slanted seats, Adirondack chairs offer comfortable sitting. The raised seat of reclined chairs supports the leg. Unlike other chairs, you don't feel achy while sitting on Adirondack chairs.
The composition of the chair helps to evenly distribute the weight of your body throughout the back and upper legs. Adirondack chairs with cushions and padding offer more comfort.
According to an anterior designer named John Linden, "Adirondack chairs are much more comfortable than any other type of lawn chairs". The comfortable chairs come from a quality manufacturer who charges enough for his work.
What Is So Special About Adirondack Chairs?
Unlike traditional chairs, Adirondack chairs are not ordinary chairs.
Thank you for visiting and reading my blog. Do visit: