Picture this: a sunny day, a gentle breeze, and the perfect lawn chair for your elderly loved ones to sink into. We've made it our mission to find that ideal chair, one that combines comfort, functionality, and durability to create the ultimate outdoor seating experience. After conducting thorough research and putting numerous options to the test, we've handpicked a selection of top-notch lawn chairs designed specifically for seniors. These chairs go above and beyond to ensure that our elderly can enjoy their time outdoors, providing the support and relaxation they deserve. So, let's take a closer look at our carefully curated list of the best lawn chairs for the elderly and turn their outdoor moments into pure bliss.
Best Lawn Chairs For Elderly: Collection
Here is a collection of the best lawn chairs based on comfort, quality, and design.
Freestyle Portable GCI Outdoor Rocking Chair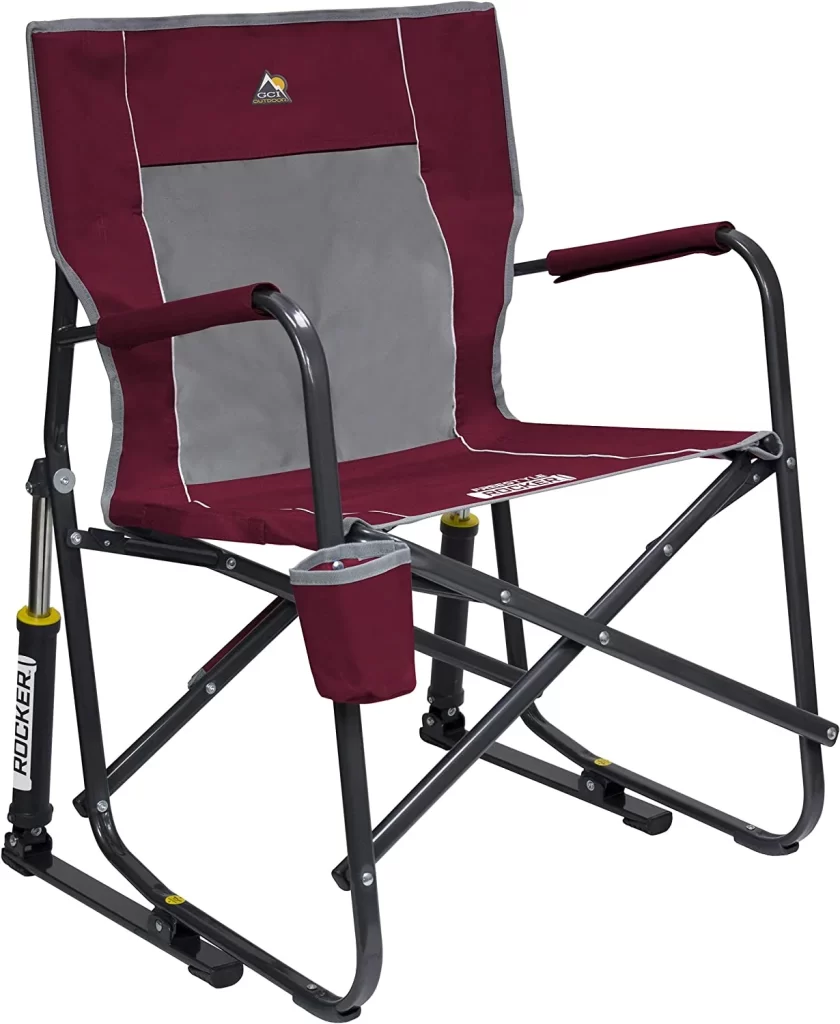 The chair is designed to be easily movable and stored, making it a convenient option for senior folks. Its mesh backrest adds an extra level of comfort, allowing them to enjoy the breeze while rocking away.
Crafted with quality in mind, it features a sturdy powder-coated steel frame. It can support up to 250 pounds, providing a stable and reliable seating option. The chair is thoughtfully designed with padded armrests. Plus, it even comes with a built-in beverage holder, so you can keep your favorite drink within reach.
What sets this rocking chair apart is its patented Spring-Action Rocking Technology. This innovative feature delivers a smooth rocking motion, allowing older people to experience relaxation smoothly.
Portable Folding Camping Chair with Carrying Bag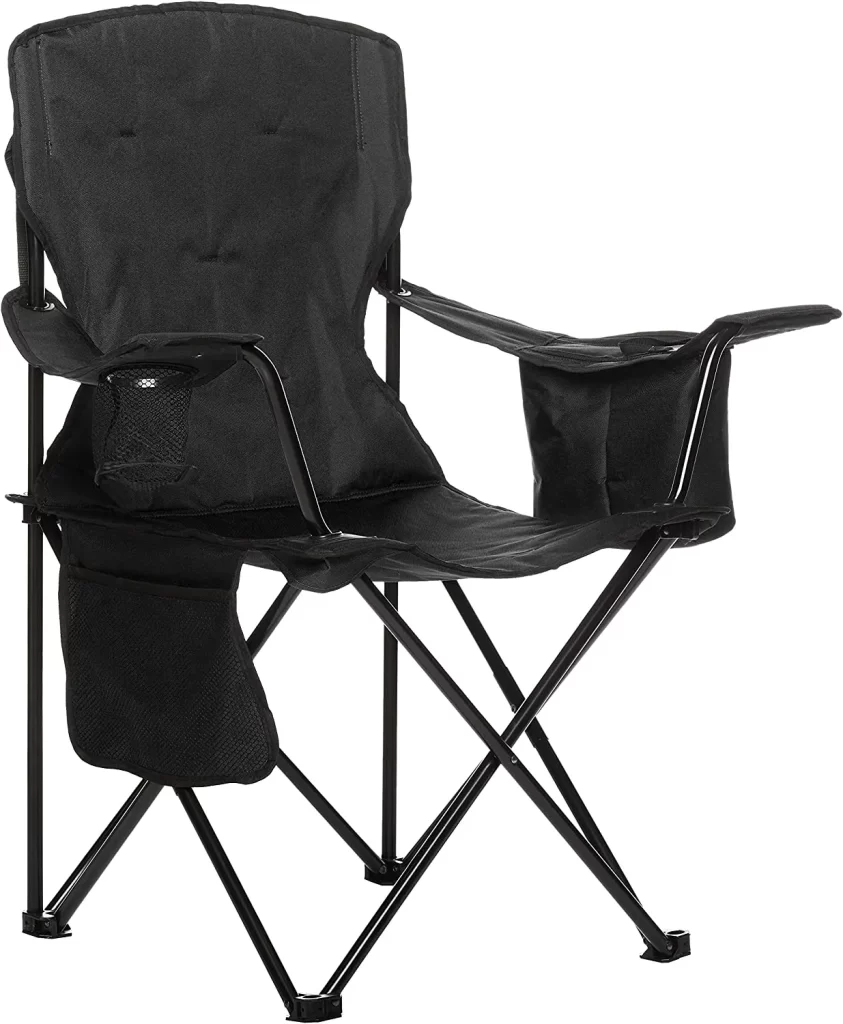 This chair comes in a sleek black color, adding a touch of style.. The lightly cushioned seat and back provides a nice balance of comfort. Whether sitting around the campfire or enjoying a lawn, the seniors can relax in comfort and support.
One of the features of this chair is the beverage-cooler pouch. Hang it from the armrest, and you'll have a convenient storage space that can hold up to four 12-ounce cans. Moreover, it is equipped with a built-in cup holder. No more worrying about where to place the drink. Simply place it in the cup holder and enjoy the favorite beverage while sitting back and relaxing. Additionally, there is a side storage pocket where olde guys can keep essentials such as glasses, magazines, pens, etc.
The compact design, while convenient for transportation, may not be suitable for individuals who prefer larger seating options.
Coleman Portable Camping Chair with 4-Can Cooler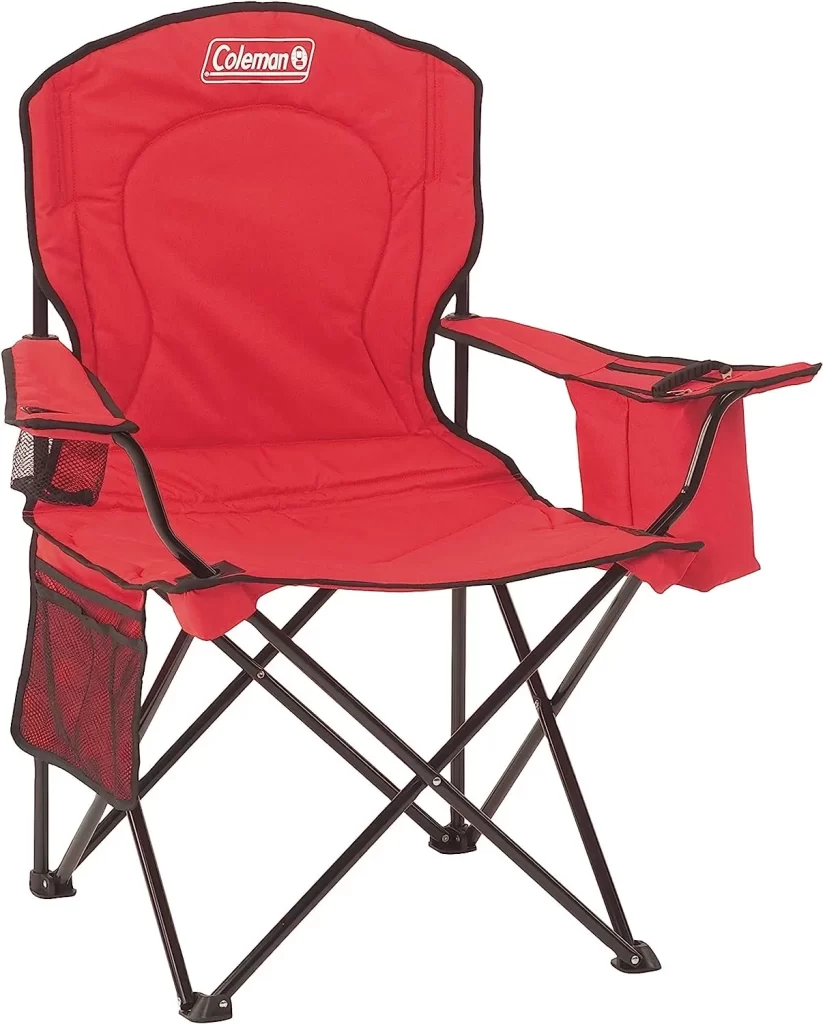 It  provides ample space for relaxation. The fully cushioned seat and back offer exceptional support and comfort, allowing older guys to sit back and relax..
One of the standout features of this chair is the convenient armrest cooler. This built-in 4 can cooler pouch keeps the drink cold and within reach, so they can stay refreshed and hydrated throughout the sunny day.
Moreover, it has a mesh cup holder, making it easy to keep drinks within arm's reach. Additionally, a side pocket provides quick access to personal items such as books, medicines, glasses, erc. so they can have everything they need at their fingertips.
The chair has easy storage and transportation. It conveniently folds down into a compact size, allowing to store it in the included carry bag.
One thing to note: the chair pockets make them kinda chunky, and getting them in the case is a real pain.
MacSports C932S-129 Padded Cushioned Chair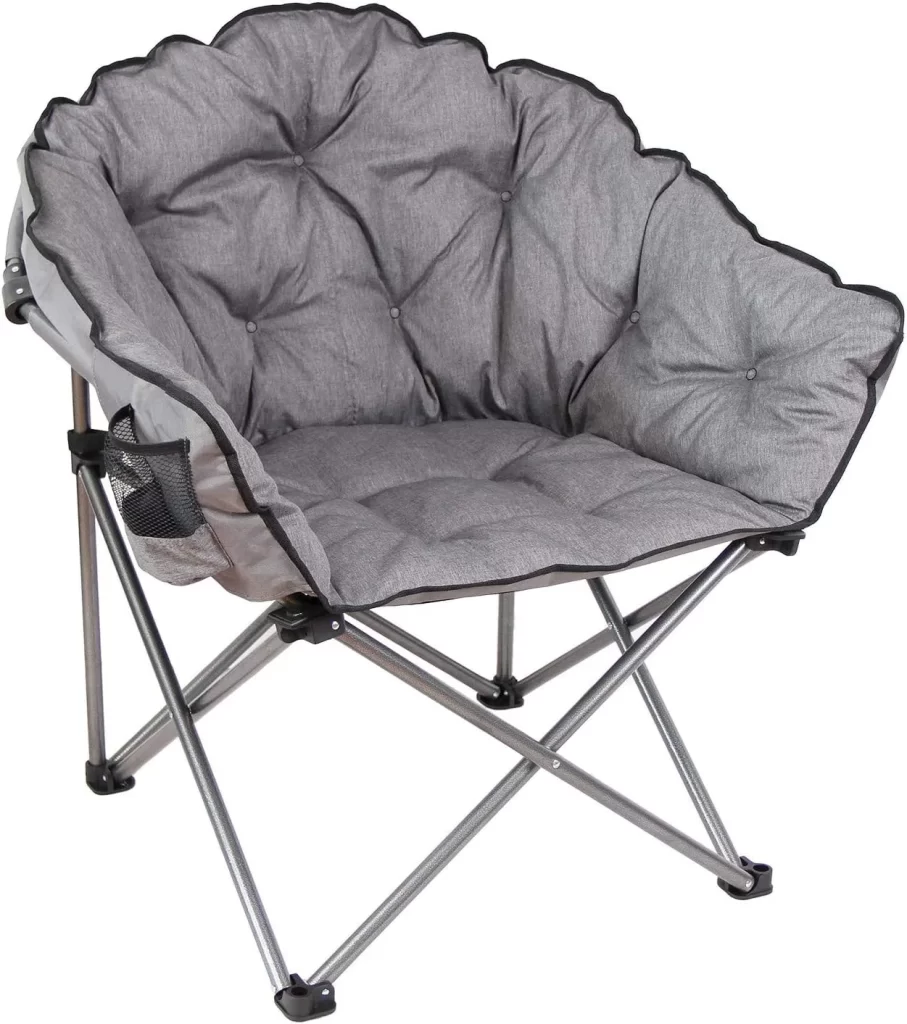 It can be easily folded and does not require any assembly, allowing the elders to effortlessly transport it to different locations or store it when not in use. The stainless steel frame and polyester upholstery contribute to the chair's durability. It can withstand frequent use without succumbing to wear and tear. Additionally, the stain-resistant property of the polyester fabric makes it resistant to spills and dirt.
The chair comes with a carry bag, allowing the seniors to easily transport it wherever they go. The bag helps protect the chair during transportation and storage, preventing any potential damage.
One drawback is that the chair does not require any external power source, as it is manually operated. While this eliminates the need for batteries or electrical connections, it also means that the chair does not offer any additional features or functionalities powered by electricity.
Steel Mesh Zero Gravity Lounge Chair Recliners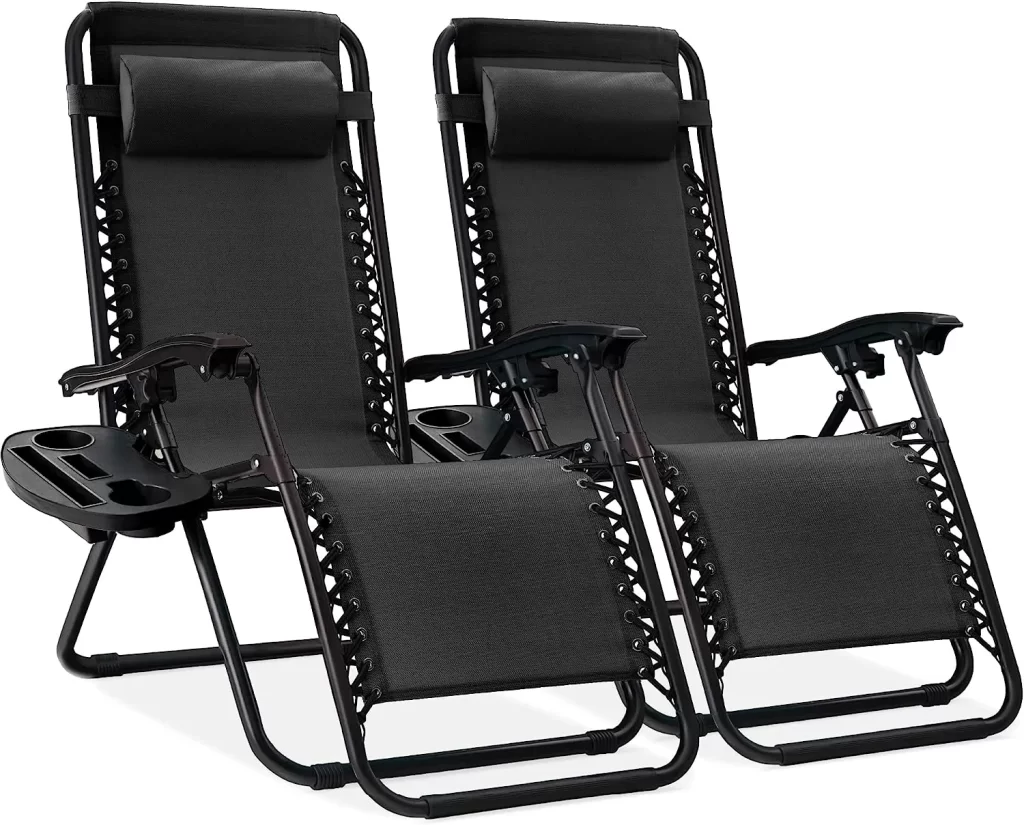 The lockable reclining system helps attain a perfect position that relieves pressure on joints and promotes optimal relaxation. This feature is particularly beneficial for seniors seeking a comfortable seating option that helps alleviate back pain or muscle tension.
The lightweight and foldable design of the chair makes it highly portable and convenient.
The detachable tray with cup holders, phone holder, and tablet holder adds convenience to the lounging experience. The elders can keep their favorite drinks, mobile phone, etc, allowing them to enjoy their leisure time without having to constantly search for them.
With its durable construction and low – wear textilene fabric, this chair is designed to withstand regular use and provide lasting quality. The high weight capacity ensures stability and durability, allowing the chair to accommodate different users comfortably.
The removable and adjustable headrest provides an additional layer of comfort. It can be positioned according to an individual preference, providing targeted head and neck support.
Oversized Zero Gravity Chair 33In XXL Reclining Cushioned Chair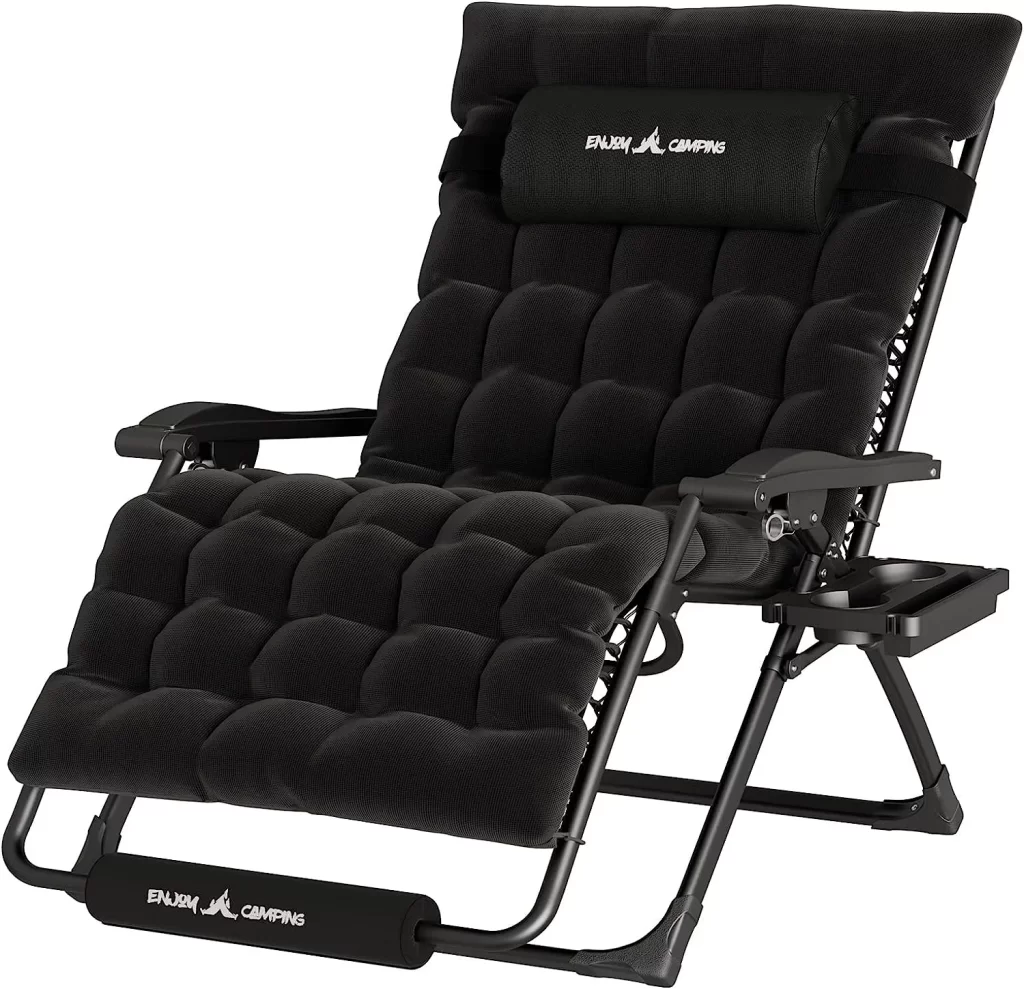 The oversized XXL size of the chair provides ample space and comfort for elders of various sizes. With a weight capacity of 500 pounds, it is designed to accommodate heavier users without compromising stability or durability.
Its removable cushion padding and textilene fabric contribute to a comfortable and breathable seating experience. The full backrest, adjustable headrest, and footrest allows the older people to find an ideal position for complete relaxation.
The chair is foldable and easy to carry. The integrated pockets and holders keep the belongings within reach, allowing the elders to enjoy their leisure time without interruptions.
With no assembly required, you can start using the chair immediately. Simply unfold it, adjust the position, and enjoy the comfort it provides.
SwimWays Kelsyus Original Foldable Canopy Chair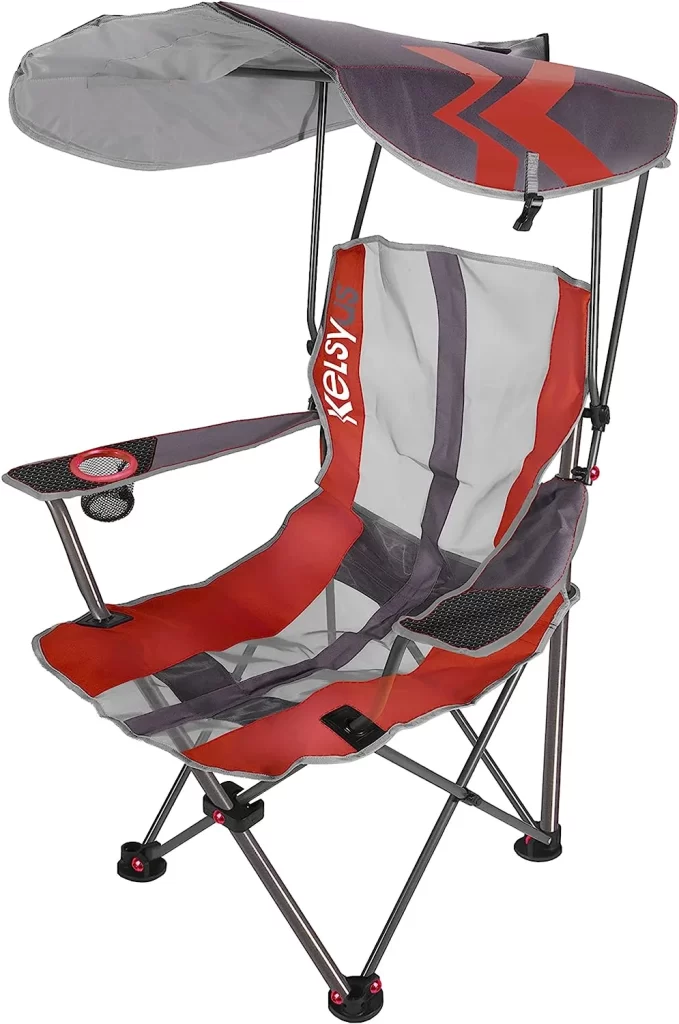 The canopy design provides a shaded space for our beloved elders to relax, read, or enjoy a meal outdoors. No need to worry about the scorching sun because the retractable canopy offers 50+ UPF sun protection, keeping them safe from harmful UV rays. Plus, the best part is that the canopy also doubles as a carry case! Just fold up the chair, secure it with the snap-lock buckle, and sling it over the shoulder using the attached strap for easy hands-free transport.
Setting up the chair is a breeze – simply unfold it and lock the canopy into place. It's a versatile outdoor companion that provides comfort, shade, and convenience all in one.