If you're on the hunt for the ultimate office throne, you can't go wrong with the Herman Miller Aeron or the Steelcase Leap. These bad boys are the cream of the crop when it comes to ergonomic chairs, but which one is right for you? That's the million-dollar question. We've gathered intel from all over the place to give you the lowdown on the Aeron vs Leap showdown.
We'll be breaking down everything from their features and benefits to what real people have to say about them. So, whether you're decking out your home office or a giant corporate workspace, sit tight and get ready to find out which chair will rule your world.
The main difference between Aeron and Leap is that the Aeron offers an ergonomic design and exceptional back support with posture and spine health technology, while the Steelcase Leap V2 is equipped with fully adjustable armrests and multiple back adjustment options, making it ideal for shared workspaces. However, the Aeron's high price, limited armrest adjustment, and lack of head and neck support may deter some buyers, while the Leap V2's pricey tag, lack of neck support, and prone-to-stains foam padding may also turn off potential buyers. Ultimately, it's all about what you like and what you can afford, but both these bad boys have some pretty dope features that make them worth checking out.
Aeron vs Leap: Dimensions
Seat
There's a big difference between the Aeron chair and the Leap chair in terms of seat size. The Aeron's seat is 17 inches wide and 16.75 inches deep, which is kinda smaller than the Leap's seat. The Leap's seat is wider, like 19.25 inches, and you can adjust the depth from 15.75 inches to 18.75 inches. 
If you wanna stretch out and fiddle with your seat, go for the Leap. But if you're a bit on the petite side or just like feeling snug in your chair, then the Aeron's your go-to.
Backrest
The Aeron's got a wider backrest, measuring in at 21.5 inches wide and 22 inches high. Meanwhile, the Leap's backrest is a bit skinnier at 18 inches wide, but it's got some serious height, standing tall at 25 inches. This extra height might be just the ticket for folks who need some extra oomph in their upper back support, while the Aeron's wider backrest gives you more wiggle room to shift around in your seat.
Armrest
The Aeron's armrests can go as low as 5.5 inches and as high as 9.75 inches, with a distance of 17 inches between them. The Leap's armrests, on the other hand, have a height range of 7 inches to 11 inches and a distance between them that can vary from 12.75 inches to 20 inches. So, if you're a bigger dude, you might wanna go with the Leap because it can handle more girth, you know what I'm sayin'? Plus, the Leap's armrests move with the backrest, which means you get continuous support no matter what position you're in.
Weight Capacity
The Aeron's weight capacity is 350 lbs, which ain't too shabby, and should work for most folks out there. But, if you need a chair that can handle even more weight, you might wanna check out the Leap, which has a weight capacity of 400 lbs. That extra weight limit might come in handy if you're a bigger person or if you're always hauling around heavy gear while sitting in your chair.
Aesthetics
When it comes to the way these chairs look, there are some big differences between the Aeron and Leap. The Aeron is all about ergonomic curves and smooth lines. It's got this meshy back that shows off the framework design and comes in a few different neutral colors. It's pretty inclusive-looking and works well in any kind of office setup. 
On the other hand, the Leap is sleek and slim, with a smooth back and seat that looks super modern. It's made of durable black plastic, but the cool thing is that there are fifteen different color options to choose from. Plus, the back of the Leap has this 3D knit material that's not only comfy, but it looks pretty snazzy too. 
So, if you're into bright colors and want to make your workspace more lively, Leap is the way to go. But if you want something more neutral and classic, Aeron is the chair for you.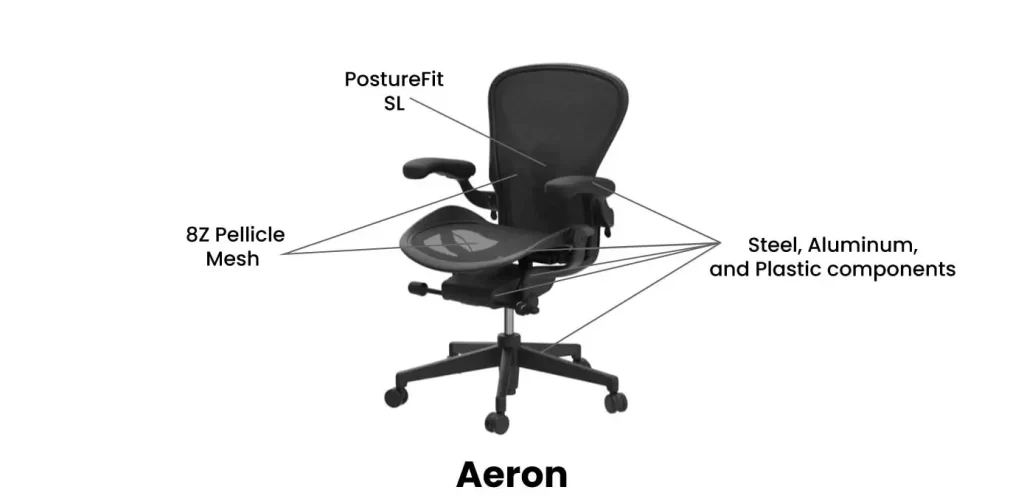 Comfort Level
Backrest
The Leap has a patented "LiveBack" technology that adapts to your movements and provides upper and lower back firmness adjustments. While the Aeron's 8Z Pellicle material provides full-body support and comfort. The Aeron also features the PostureFit SL system, which offers 8 separate zones of postural support and promotes a more natural lumbar position and spine curvature. 
The Leap's Natural Glide back support system offers adjustments to the upper and lower back. But the PostureFit SL on the Aeron is preferred for its unique, flexible pads that adjust to fit the curve of your spine and provide ample support for both the sacrum and lumbar. Overall, both chairs offer excellent back support and comfort, but the Aeron's PostureFit SL feature may be particularly beneficial for those looking to prevent back pain and maintain good posture.
Armrests
Both of these babies have armrests that'll have your elbows feeling like they're on vacation. The Aeron's got three armrest options to choose from, including fixed, height-adjustable, and fully adjustable, and those fully adjustable ones are the bee's knees, offering up height, depth, and pivot angle adjustments. Plus, the armrests are padded with soft vinyl arm pads, so your elbows will be cozy all day long. 
The Steelcase Leap's armrests are next-level, though. They're four-dimensional, people! That means you can adjust the width, depth, height, and pivot to your heart's content. And even though they're not padded, they're still designed like a dream. The Leap's armrests scored a smidge higher than the Aeron's in our books, but if you're all about that ergonomic life, the Aeron's padded armrests might just be the way to go. Either way, you can't go wrong!
Seat
Both chairs are pretty comfy, but they do have some differences. The Leap has a more traditional seat with good padding that won't make your butt feel like it's hitting the floor, and the front of the seat is flexible so you won't get pressure under your legs. Plus, people generally rate it pretty high in the comfort department, so you're probably not gonna regret getting it without trying it first.
On the other hand, the Aeron has this cool mesh seat that gives a little when you push on it, but it's still firm enough to be supportive. However, some folks have said that the side bolsters can put pressure on their hips, which isn't exactly comfy. Also, the comfort rating for the Aeron is kinda all over the place – some people love it, some people hate it, so it's a bit of a gamble if you've never tried it before.
One thing the Aeron has going for it, though, is the mesh design. It's got better ventilation and airflow, which is nice if you tend to get sweaty when you're sitting for long periods.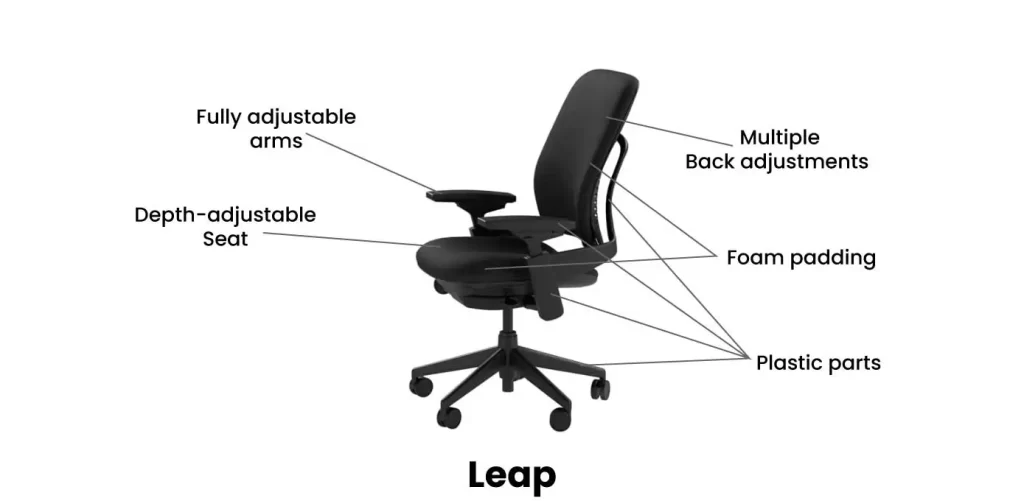 Upholstery
The Aeron may only have one type of mesh material, but it comes in three badass colors: graphite, carbon, and mineral. These colors give you a modern and sleek look that's perfect for any office setting.
On the flip side, the Leap has a whopping 80 upholstery options, including six fancy leather choices. You can choose the one that suits your fancy and jazz up your chair to match your office decor and personal style. But, hey, don't forget that some of the Leap's upholstery options may take a little longer to arrive. 
While the Aeron has limited choices, each one is made with top-notch quality that'll keep you comfy and happy for a long time. If you're all about customization, then the Leap's variety of options may be right up your alley.
Adjustability
When it comes to how adjustable they are, the Steelcase Leap and Herman Miller Aeron office chairs are pretty different. They both go up and down, but the Leap can go higher, up to 5 inches more. The Leap also lets you adjust how firm the backrest is both in the upper and lower parts, and you can see the frame that gives you support for your lower back. On the other hand, the Aeron has pads on the back that can be moved up or down. Follow the link for detailed Aeron's adjustment. 
Both chairs let you adjust the armrests, but the Leap gives you more options with four ways to adjust, while the Aeron has three options you can buy. Overall, if you want a chair that you can adjust to fit your body perfectly, the Leap has more ways to do it with things like the seat height, depth, lumbar support, and fancy 4D armrests.
Quality & Durability
Quality
If you're looking for an office chair that'll last longer than a Kardashian marriage, you gotta check out the Herman Miller Aeron and the Steelcase Leap V2. The Aeron is seriously built like a tank, with top-of-the-line components that are super high quality. The mesh upholstery and plastic parts are just the best, and the chair is overall really well-made, with tough steel, aluminum, and plastic. 
Meanwhile, the Leap V2 is a little lighter, thanks to its use of fancy-pants polymers. But don't worry, the plastic parts are all top-notch, fitting together perfectly with no slop or jank. In short, both these chairs are built to go the distance, so you can park your keister and game/work/watch TikTok videos in total comfort for years to come.
Durability
Both of these chairs are built to last, no doubt about it. The Aeron's pellicle mesh is super durable, so you don't have to worry about stains or discoloration over time. Meanwhile, the Leap's plush materials are no slouch – the seat is less likely to sag over time, even with heavy use. 
Just a heads up, though—if you're a little on the hefty side, the Aeron's mesh might start to feel a bit uncomfortable after a few years. But, both of these chairs come with killer warranties and customer service, so you can rest assured they'll hold up like champs. Oh, and one more thing –  the Leap's leather option is a total boss move if you want something that's stain-resistant and looks straight-up badass.
Suitability
When deciding between the Herman Miller Aeron and the Steelcase Leap V2, one important thing to think about is who will be using the chair. The Aeron has three different sizes to choose from and adjustable features, which means it can work for a lot of people. But, some folks might not find it comfortable because the seat depth and arm adjustments aren't perfect.
On the flip side, the Steelcase Leap V2 is built to fit a wide range of body types without any adjustments needed. It has adjustable armrests, a super comfortable seat depth feature, and can hold up to 400 pounds. The Leap's design is made to work for most people, which makes it a great choice for communal work spaces.
Usability
Aeron
Leap
Final Words
Both of these bad boys are top-notch ergonomic chairs with amazing features, adjustments, and warranties. But, at the end of the day, it all boils down to your personal taste and what your body needs. If you're all about that mesh material and modern style, the Aeron is your chair. If you prefer something with a more classic look, full back support, and extra padding, the Leap could be the one for you. Oh, and if you're constantly fidgeting, the Leap's tilt and swivel action might be a better fit, whereas the Aeron's firmness is great for focused desk work. Either way, whichever chair you decide to get, you're investing in your comfort, well-being, and productivity.