Steelcase is a known furniture manufacturing company that offers products for offices, hospitals, classrooms, etc. Like other options, the brand gives the freedom to choose the chair upholstery of your choice. The customer can choose between Steelcase Cogent vs Era, both are high-end fabrics.
The main difference between Steelcase Cogent and Era is that the Cogent is a very smooth knitted fabric with an even hole pattern that has more breathing, more softness, and more flexibility. The Era is a subtle, two-tone woven fabric with a stretch in both directions. The Era with herringbone pattern, has less breathing, less softness, and less flexibility than Cogent fabric.
Despite having multiple differences, both fabrics share a number of similarities. Both are made of 100% polyester and come with a rub count of 100,000.  Moreover, both can be washed with water and solvent-based cleaners.
Steelcase Cogent vs Era: Specs and Comparison
Features
Steelcase Cogent
Steelcase Era
Material Type
Knit/Mesh
Woven
Design
Solid
Texture
Dry Crocking
Class 4
Class 4.5
Wet Crocking
Class 4
Class 5
Colorfastness to Light
Class 4
Class 5
Width
62 Inches
54 Inches
Country of Origin
United States
United Kingdom
Warranty
12 Year
12 Year
Sustainability
Cradle to Cradle Certified™
Oeko-Tex® Standard
Color Options
27
23
Breathing
High
Low
Flexibility
More
Less
Softness
More
Less
Fabric Composition
Polyester (100%)
Polyester (100%)
Double Rub Count
100,000 Double rubs
100,000 Double rubs
Cleaning Method
W/S
(Water and Solvent-based cleaners)
W/S
(Water and Solvent-based cleaners)
Steelcase Cogent vs Era: Differences
Material Type:
One of the important differences between Steelcase Cogent and Era fabric is the material type.
The Cogent is a mesh/knit material in which the yarns are knitted together in a way to form a number of tiny holes. These holes/spaces then collectively give the fabric a unique look of netting.
The Steelcase Era on the other hand comes as a woven fabric in which the two series of threads or yarns (warp and weft) interlace to each other at the right angle. The woven fabrics offer more durability and can last for years.
Design
The Cogent comes as a solid fabric that features one colored material. The solid fabrics give a plain impression, unlike the effect of checkered or striped fabric. Such fabric offers a variety of applications.
While the Era is a textured fabric in which the threads/yarns are interlaced with each other to give a special texture and appearance.  With your hand, you will be able to feel the texture like hardness or softness, coarse or fine, thin or bulky, etc.
Dry and Wet Crocking
Crocking refers to the bleeding of dye/color from the fabric due to rubbing. It further has two types i.e. dry crocking and wet crocking.
Dry crocking refers to the removal of color(s) from the fabric when rubbed or exposed to another material.
Wet crocking refers to the removal of color(s) from the fabric when exposed to moisture.
Depending on the amount of color(s) removed, the fabrics are rated into different categories, with Class 5 having no color transfer (removed), and Class 1 having a high color transfer.
The Cogent fabric is rated as Class 4 both for dry and wet crocking which reflects its color-holding capacity.
Era fabric has Class 4.5 and 5 for dry and wet crocking, respectively. 
The crocking results of the fabric have a link with its suitability. With the crocking results, you can ensure the fabric will not have post-installation dye transfer issues.
Colorfastness to Light
Colorfastness to Light is the ability of a fabric to resist fading when subject to light.  Based on this test, the fabrics fall into three categories.
A high level of fading falls under Class 1.
While Class 4 has Slight fading.
Class 5 consists of No fading fabrics.
The Cogent fabric has a Class 4 rating which means it undergoes slight fading when exposed to light.
While the Steelcase Era holds a rating of Class 4.5 which reflects its better color-holding capacity under light.
Width
The fabric width refers to the distance from one selvedge to the other selvedge, measured perpendicular to the length of the fabric. The fabric width varies depending on the composition of the fabric.
Both fabrics differ from each other because the Cogent has a width of 62 inches while the Era comes with 54 inches width.
Country of Origin
Both fabrics have different sources of origin.  The Cogent is from the United States while the Era belongs to the United Kingdom.
Breathing
Being a knit/mesh material, the Steelcase Cogent fabric features tiny holes/spaces. These holes make it an excellent breathing fabric. With high breathing, this fabric proved best for air circulation during long hours of sitting. Such a fabric provest best to minimize bum sweat.
The Era, on other hand, is a woven fabric that features interlacing threads or yarns. Such an interlacing creates a fabric that has smaller spaces. This in turn makes the Era fabric less breathable.
Breaking Strength
A breaking strength indicates the ability of a fabric to resist breaking when subjected to tension. The number of pounds required to break or tear the fabric determines the rating. The rating is measured in lbs.
It has been found that Cogent fabric has 166 lbs for the warp and 124 lbs for the weft.
While the Steelcase Era has a better breaking strength compared with the Cogent. The Era fabric features a 267 lbs rating both for the warp and weft.
Brush Pill
A brush pill test is used to find out the propensity of a fabric to form pills after rubbing it with a nylon brush for a set period of time. The pills are counted and the fabric is rated accordingly.
Class 1 – Severe pilling
Class 5 – No pilling
The knitted fabric tends to form more pills than woven fabric.
Being a knitted fabric, the Cogent holds a Class 3.5 rating, which reflects its tendency to slightly form pills.
The Era comes as a woven fabric, and it has a rating of Class 5, which means the fabric will not form the pilling.
Flexibility, Softness, and Color options
Fabric flexibility refers to the ability of a fabric to be bent or folded.
It has been found that the Cogent has more flexibility and softness than the Era fabric. Upon touch, the Era gives a rough feeling and it also shows less flexibility when stretched.
As for as the color options are concerned, Steelcase offers Cogent fabric in 27 different colors, while the Era is available in 23 colors.
Sustainability
The Cogent fabric has great sustainability and it comes as a Cradle to Cradle Certified™ fabric. This certification means the fabric is safe, circular, and responsibly made. It comes as an Antimony-Free fabric.
While the Steelcase Era has a label of Oeko-Tex® Standard 100 Class II, which shows the fabric is free of harmful levels of toxic substances. Originally tested for around 100 chemicals like carcinogenic, pesticides, etc. but today, the Standard 100 test covers a range of several hundred harmful substances.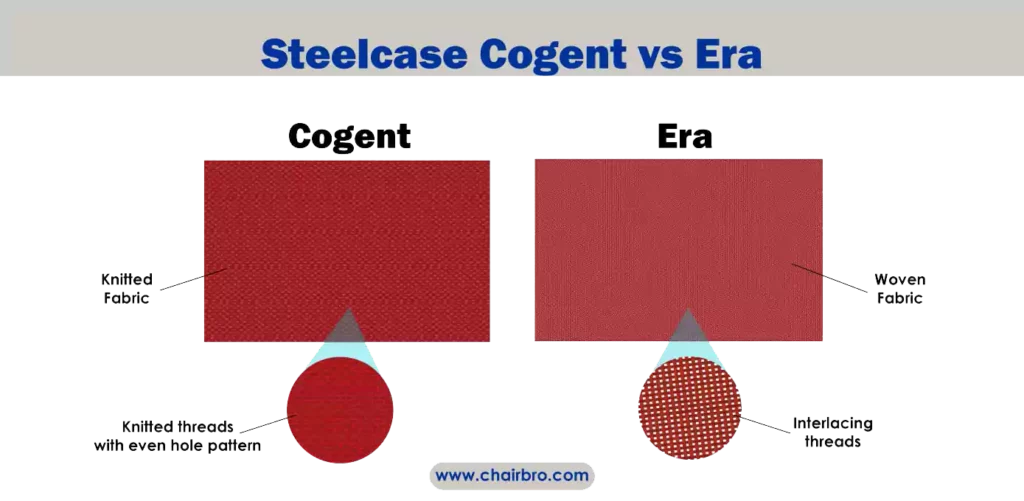 Steelcase Cogent vs Era: Similarities
The Cogent and Era have multiple similarities in common.
Double Rub Count
Rub count of a fabric is a simple way to measure its durability. Usually, it is measured in double rub counts.  Most upholstery chairs come with 15,000 to 25,000 double rubs. Such a fabric can last for years. The commercial grade fabrics feature a rub count from 100,000 to 250,000, a good number for heavy duty.
The Steelcase Cogent and Era feature a double rub count of 100,000 which makes them ideal for heavy use. Such fabrics have high endurance and do not wear and tear easily. Being the best for consistent use, these fabrics can last for years.
Fabric Composition
The fabrics have a composition of natural fibers (e.g. silk, cotton, wool, etc.) or synthetic fibers (e.g. polyester, rayon, acrylic, etc.). Like their composition, these fabrics exhibit different qualities. 
Talking about Cogent and Era, both come as 100% polyester fabric (Antimony Free Yarn). Being a very durable fabric, polyester can withstand many chemicals. The strong and lightweight fiber retains its shape by resisting wrinkling, stretching, shrinkage, and abrasions. You can wash it at home and it dries quickly.
Cleaning Method
Depending on its composition, each fabric comes with a specific cleaning code. Following are the different cleaning codes.
W – Water-Based Cleaner
S – Solvent-Based Cleaner
WS – Water/ Solvent Cleaner
D – Dry Clean Only
X – Vacuum Only
The Cogent and Era have a WS cleaning code, which means they can be washed both with water or solvent-based cleaners. For oily areas, the fabric should be treated with solvent. While for water based spots, the water based cleaners are considered best.
Conclusion
On the basis of the features discussed, we have found that Steelcase Cogent fabric scores more for comfort and ergonomics due to more breathing, flexibility, and softness.
While the Steelcase Era wins the race for durability due to more breaking strength, more ratings for dry and wet crocking, and better ratings for the brush pill test and Colorfastness to Light test.
Overall, each of the two fabrics proved excellent pieces, and they have the capacity to last for years.