Picture this: you're stoked for a day at the beach, ready to soak up the sun and have a freakin' blast. But then you plonk your butt on this narrow, annoying chair that straight-up ruins your vibe. Choosing the right beach chair is key. You need one that's the perfect fit for your size and guarantees all-day comfort. It ain't just about handling your weight, it's about feeling like you're chilling on a fluffy cloud. To solve this, we have compiled a collection of the best beach chairs for plus size people.
These chairs have sturdy builds and are strong enough to let you lay back, and relax with peace of mind, knowing that you can enjoy your beach time comfortably and securely.
Best Beach Chairs for Plus Size: Collection
Big Jumbo 500 lbs XL Beach Chair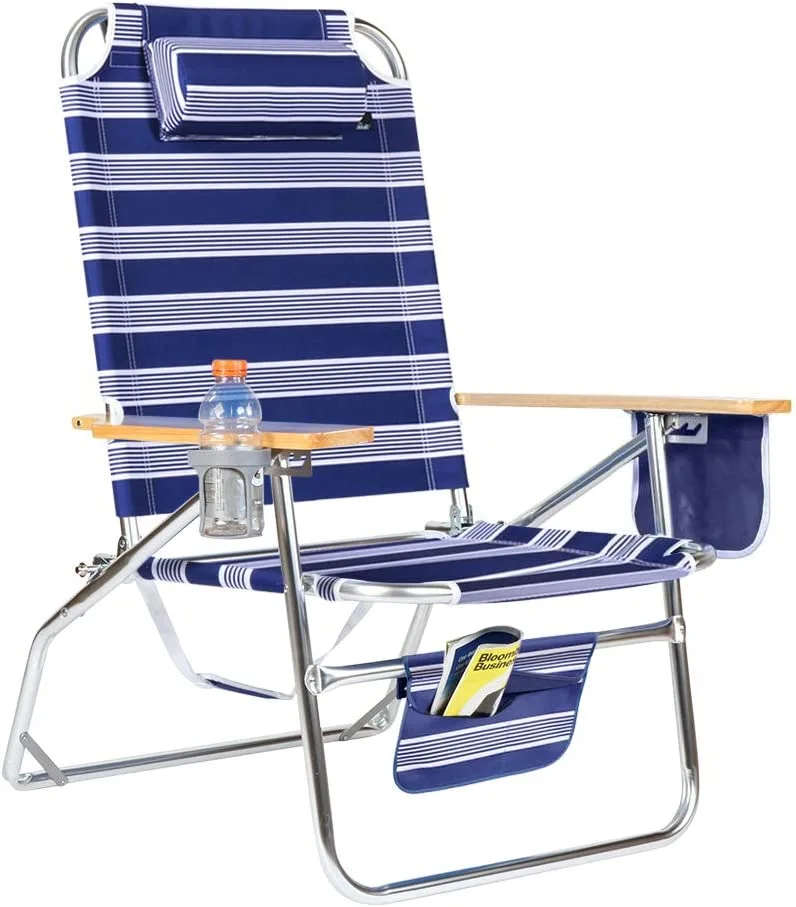 This chair is designed to provide ultimate relaxation and convenience, particularly for those who may have difficulty getting in and out of standard chairs, require a large seating area, or are taller and prefer to keep their knees bent at a 90-degree angle. 
When it comes to durability, this beach chair does not disappoint. It features rugged and double-layered 600 Denier Polyester fabric, which is triple coated for quick drying. This high-quality material ensures long-lasting use and can withstand the rigors of outdoor environments. However, it's important to note that due to its sturdiness, this chair weighs 16 lbs, which is significantly heavier compared to other beach chairs that typically weigh between 6 to 10 lbs.
Comfort is a priority with this beach chair. It offers four reclining positions, allowing you to find the perfect angle for relaxation. The oversized seat dimensions of 23 inches in width and 22 inches in depth, with a height of 16 inches from the ground, provide ample space for a comfortable seating experience. The overall height of the chair is 42 inches, ensuring adequate back support and a relaxed sitting position.
Coleman Big and Tall Beach Chair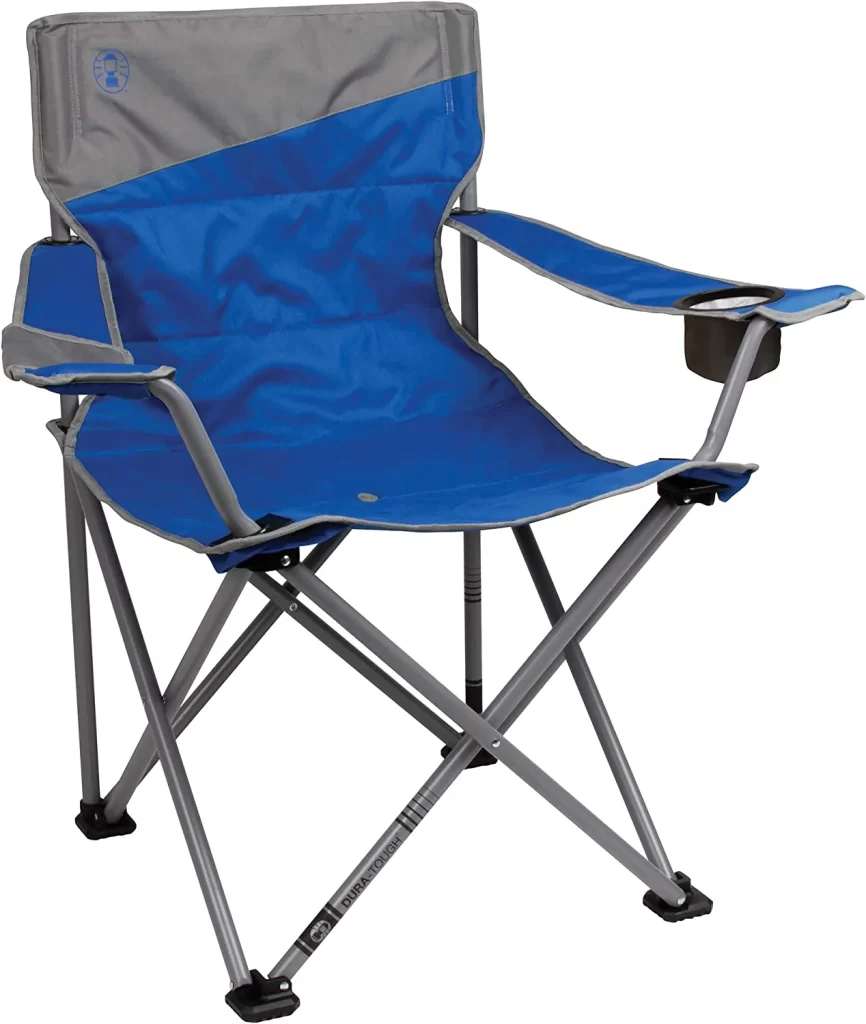 The extra-large beach chair provides a roomy and relaxing experience. The large feet of the chair also contribute to its exceptional stability, ensuring that you can sit or recline with confidence. One of the features of this  chair is a Seat Drain system, which is designed to empty collected standing water from the seat..
Additionally, the chair comes equipped with a cell port water-resistant cell phone sleeve. This sleeve allows you to safely store your electronic devices, such as your phone in wet conditions, protecting them from water damage. 
The chair's steel frame is built to support up to 600 pounds, making it suitable for individuals of various sizes. The sturdy construction ensures long-lasting use, so you can enjoy the chair for many trips to come.
ALPHA CAMP Oversized Camping Folding Chair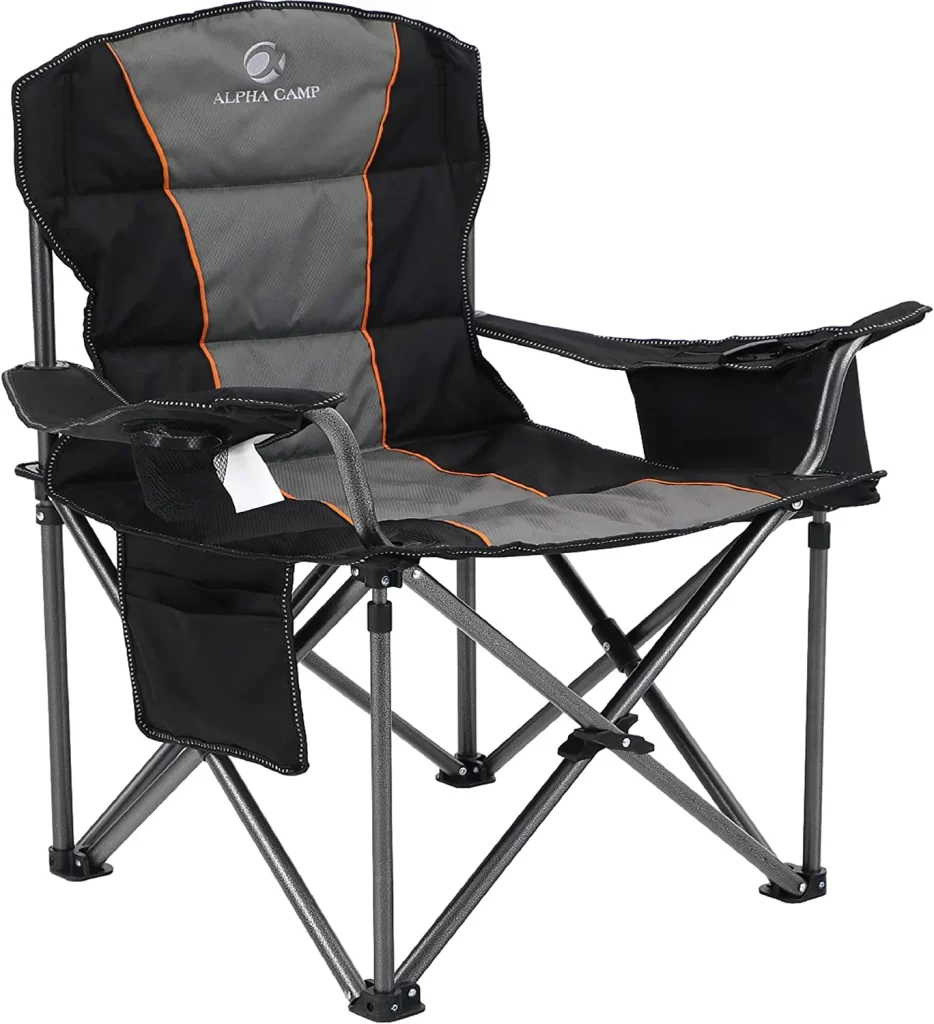 It's got all the space you need to kick back and relax while enjoying the beachside.. The size of this chair is impressive, measuring at 25.20″ in length, 36.61″ in width, and 39.37″ in height. It's designed to accommodate larger individuals comfortably.
The large seat area is made from 600x300D padded oxford fabric, ensuring a cozy and cushioned seating experience. The padded armrest adds an extra touch of comfort, allowing you to truly relax and unwind.
It comes with extra storage spaces that make your outdoor experience even more enjoyable. The durable mesh cup holder and armrest are positioned at the perfect height for easy access to your beverages. Plus, there's a side storage pocket where you can keep your cell phone, notebook, and maps within reach. And to top it off, there's a side cooler bag that will keep you cool on hot summer days. 
Deluxe XL Wide Tall Beach Chair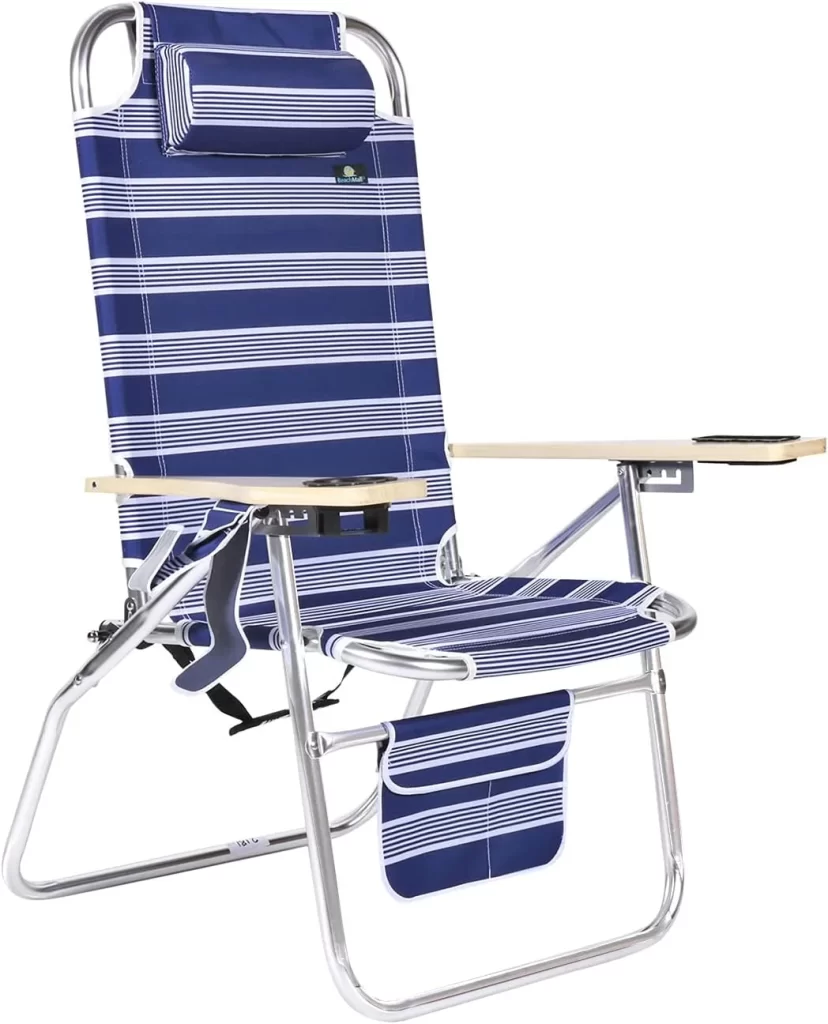 Deluxe XL Wide Tall beach chair weighs just 6.8 lbs, making it incredibly easy to carry and transport. Manufactured using rugged 600 Denier Polyester fabric, it can withstand the elements and is triple coated for quick drying. With four easily adjustable reclining positions, you can find the perfect angle for relaxation.
When it comes to size, this beach chair doesn't disappoint. The wide seat, measuring 21 inches in width and 17 inches in depth, ensures that you have ample space to lounge comfortably. The tall back with an interior height of 29.5 inches provides excellent back support and allows for a relaxing seating position.
What makes this beach chair unique is its unique and functional design. The zipper cell pouch, accompanied by a storage pouch, features a clear view sleeve that allows you to control your smartphone from the outside, protecting it from sand and water. Additionally, there's a headphone opening and a flap to conceal your cell phone, ensuring a convenient and safe experience. The foldable cushioned headrest provides extra comfort, allowing you to relax and unwind while enjoying your time at the beach.
Zero Gravity Oversized Folding Beach Chair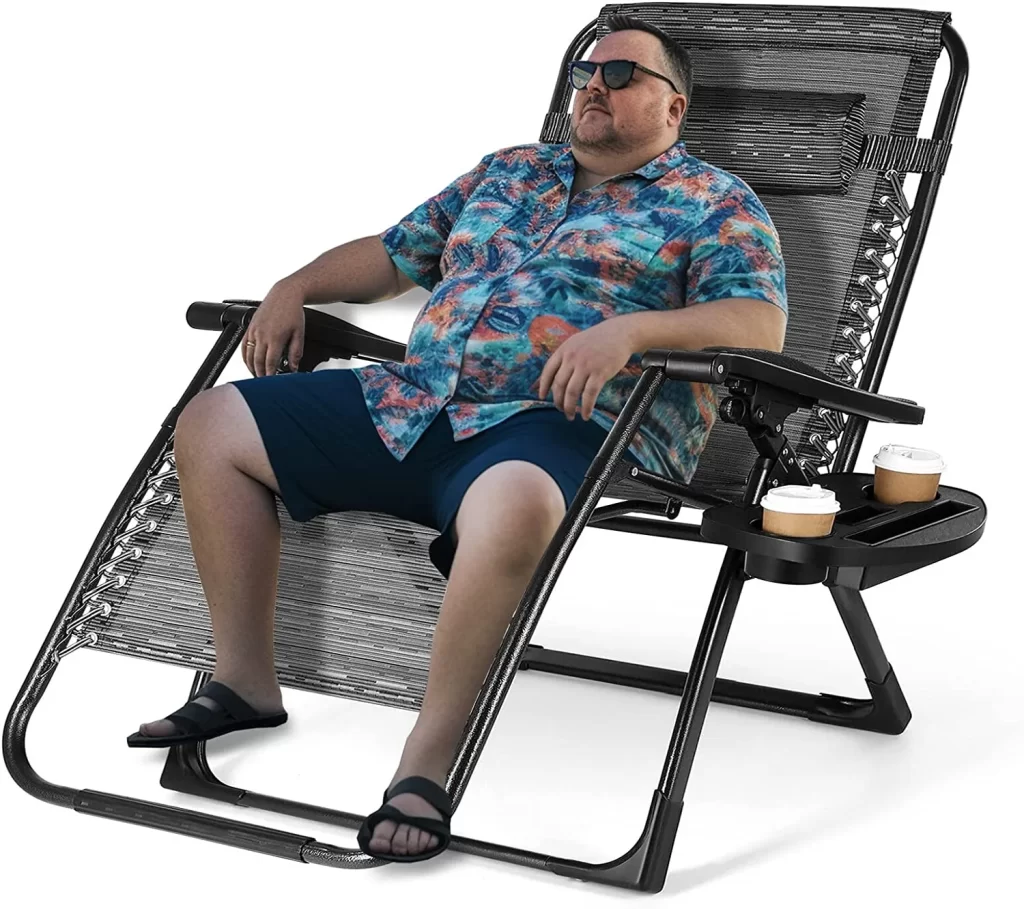 Constructed with a high-quality steel frame, this chair is strong and sturdy, ensuring long-lasting use. The textilene fabric used in this chair helps in quick drying, UV resistance, and sun protection. Its breathability and high strength support contribute to a comfortable seating experience.
With a width of 29.53 inches, it provides ample room and comfort for users. Unlike standard chairs, this oversized design ensures a more relaxed and spacious seating experience. Furthermore, it has an impressive weight-bearing capacity of 420 lbs, making it suitable for individuals of various sizes and weights.
The adjustable design of this zero gravity chair allows you to customize your seating position according to your preferences. With a locking handle, you can effortlessly adjust the chair's angle between 90 and 150 degrees, securing it in your desired position.
Factors to Consider Before Choosing a Beach Chair for Plus Size People
Primary Factors
Ample Seat
When you're shopping for a heavy beach chair for plus-size folks, you gotta make sure it's got plenty of seating space. Comfort is everything! You don't wanna feel all squished and cramped up when you're trying to relax on the beach. So, look for a chair with a wider seat and enough depth to stretch out your legs and really kick back. It's gotta be roomy enough to support your body comfortably and distribute your weight evenly. With a chair that's got ample seating space, you'll be able to enjoy the beach like a boss, with all the comfort and relaxation you deserve.
Weight-Holding Capacity
When it comes to buying a heavy beach chair for plus-size individuals, weight holding capacity is an essential consideration. Plus-size individuals typically require a chair that can support their weight comfortably and securely. Here's why weight holding capacity matters:
Safety and Stability: A beach chair with a higher weight capacity ensures that it can safely accommodate the weight of a plus-size individual without compromising stability. Chairs with lower weight limits may be prone to bending, breaking, or collapsing under excessive weight, leading to potential accidents or injuries. By choosing a chair with a weight capacity that exceeds the user's weight, you can ensure a safer and more stable seating experience.
Comfort: A heavy beach chair with an appropriate weight capacity ensures that plus-size individuals can relax comfortably without feeling like the chair is straining under their weight. Chairs with lower weight limits may not provide sufficient support or may cause discomfort due to inadequate cushioning or sagging. Opting for a chair with a higher weight capacity ensures proper support and enhanced comfort.
Peace of Mind: Choosing a beach chair with a weight capacity suitable for plus-size individuals provides peace of mind. It allows users to enjoy their time at the beach or any outdoor activity without constantly worrying about the chair's structural integrity. Knowing that the chair is specifically designed to support their weight promotes confidence and allows for a more enjoyable experience.
Build
A heavy-duty beach chair for plus-size individuals requires careful consideration of its build. Look for a chair with a sturdy frame made of reinforced steel or aluminum for stability and support. Durable fabrics like double-layered or 600 Denier Polyester provide added strength. Opt for wide seats and armrests with weather-resistant coatings to ensure comfort and stability. Check the weight capacity, ensuring it exceeds your weight for safety.
Secondary Factors
In addition to primary factors, consider secondary factors if possible.
Portability
A heavy beach chair can be challenging to transport, especially if you need to carry it over long distances or across uneven terrains. Ease of movement ensures that you can easily maneuver the chair from one location to another without straining yourself. Look for chairs that are designed with features like lightweight materials, foldability, and carrying handles or straps to make transportation hassle-free.
Set-Up and Pack-Up
Nobody wants to spend excessive time and effort setting up or packing up a heavy beach chair. Chairs that are designed for ease of movement often come with quick and simple assembly mechanisms. Look for chairs that can be easily unfolded and locked into position without requiring extensive manual labor. Similarly, chairs that can be folded and stored compactly are ideal for convenient packing.
Maneuverability on the Beach
The beach can have various terrains, including sand and uneven surfaces. A heavy chair that lacks maneuverability can become a hindrance when trying to find the perfect spot to set up. Chairs with features like wide feet or stable bases provide better stability and make it easier to move and position the chair on different surfaces.
Accessibility
Plus-size individuals may require more space and a wider seating area to feel comfortable. Ensuring that the beach chair allows for easy access is essential. Look for chairs that have a larger seat size and a higher weight capacity, accommodating the needs of plus-size individuals. Additionally, chairs with features like open armrests or no armrests can provide easier entry and exit from the chair.
Built-in Extras
1. Drink Holders: These are typically located on the armrests of the chair and provide a secure place to hold your beverages, keeping them within easy reach. They are designed to accommodate various cup sizes, including water bottles, cans, and cups.
2. Pockets and Storage Compartments: Many beach chairs feature pockets or compartments where you can store your personal belongings. These compartments are usually located on the backrest or the sides of the chair and are great for storing items like sunscreen, sunglasses, books, phones, keys, snacks, or any other small essentials you want to keep handy.
3. Cooler Pouches: Some beach chairs come with insulated cooler pouches, typically located on the backrest or under the seat. These pouches are designed to keep your beverages cool, making them ideal for storing chilled drinks or snacks while you enjoy your time at the beach.
4. Canopy or Sunshade: Certain beach chairs have a built-in canopy or sunshade that provides shade and protection from the sun. This feature is particularly beneficial for those who prefer to have additional shade while lounging on the beach.
5. Adjustable Reclining Positions: Many beach chairs offer adjustable backrests, allowing you to recline and find your desired seating position. This feature allows you to customize your level of comfort and relaxation while enjoying the beach.
6. Pillow or Headrest: Some beach chairs come with built-in pillows or headrests for added comfort and neck support. These features ensure that you can rest your head comfortably while lounging or taking a nap on the beach.
7. Footrest: Certain beach chairs have a built-in footrest that can be extended or adjusted to provide support and relaxation for your legs. This feature allows you to elevate your feet and enhance your overall comfort while sitting or reclining.
8. Armrests: Beach chairs with built-in armrests provide additional comfort and support for your arms. Padded or cushioned armrests can alleviate strain and enhance relaxation while you're sitting or reclining in the chair.
9. Sand or Ground Stakes: Some beach chairs come with built-in sand or ground stakes. These stakes can be inserted into the sand or ground to provide extra stability and prevent the chair from tipping or moving around, especially in windy conditions.