Being a well-known guy in the office chair field, Herman Miller Embody is a classic ergonomic piece of furniture for a healthier workstation. Despite many other important upholstery features, the chair offers two different fabric types, i.e. Embody balance vs Rhythm.
The main difference between Balance and Rhythm is that the Balance is a triple-layered, 3D knit fabric with excellent breathing, cushioning, and aesthetics while the Rhythm is a single-layered, 2D knit fabric that is soft to touch and has less breathing and cushioning.
It has been found that Balance fabric is particularly made for the Embody, while the Rhythm and other types of fabrics are already used for other existing chairs by Herman Miller. Both fabrics prove good in terms of durability and aesthetics.
The chair has its unique pixelated support to evenly distribute the weight of the user and to help achieve a healthier posture.
Embody Balance vs Rhythm: Specs
Features
Balance
Rhythm
Knitting
3D
2D
Layer (s)
3
1
Large Holes
Yes
No
Rub Count
200,000 Double Rubs
200,000 Double Rubs
Textile Grade
Grade 4
Grade 4
Made
100% Polyester
100% Polyester
PVC-Free
Yes
Yes
PFAS-Free
Yes
Yes
FR-Free
Yes
Yes
Source Origin
Italy
USA
Distinctive
Features
Breathing
Cushioning
Aesthetics
Soft-touch
Little Slippery
Comparison of Balance Fabric vs Rhythm Fabric
Embody Balance vs Rhythm: Detailed Comparison
Balance
The Balance comes in three fabric layers. There are two very thin outer layers of fabric. A third very thick layer that has multiple big holes, sandwiched between the thin layers. The thick layer works as a cushion and greatly facilitates breathing during sitting. It also provides aesthetics. The thick layer is much softer than of thin layers.
Compared with Rhythm, the Balance is a bit expensive fabric and comes with a dotted pattern. Being a grade 4 textile, the Balance at 200,000 double rubs lasts for years. It has the same abrasion rating as Rhythm.
The Balance is made of 100% polyester. It comes as a PVC-Free, FR-Free, and PFAS-free fabric material.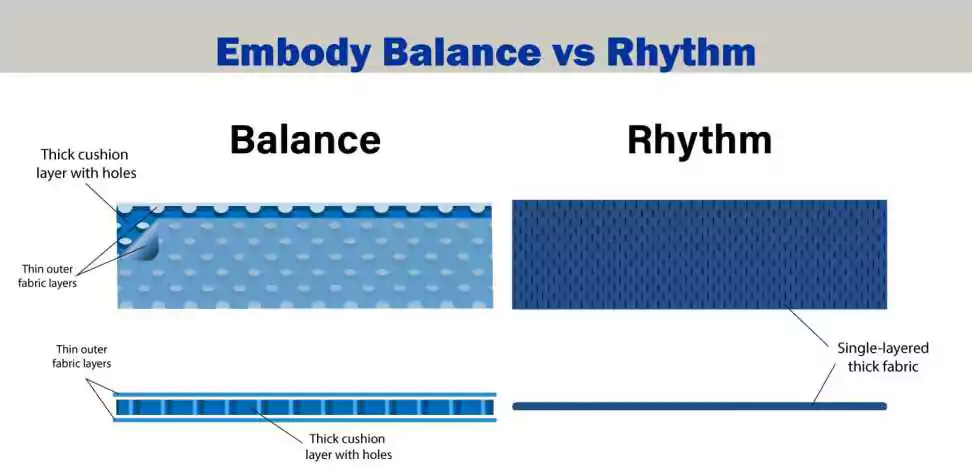 Rhythm
The Rhythm comes as a single-layered thick fabric. But it is not thick enough to be compared with only a thick cushioned layer of Balance. It gives a softer touch. The Rhythm is a little slippery for rayon or silky clothes.
It is cheaper than Balance and comes in solid color. The textile grade and abrasion rate of Rhythm are the same as Balance fabric. It is also made of 100% polyester. The Rhythm is a PVC-Free, FR-Free, and PFAS-free fabric.
Conclusion
After a detailed comparison of both fabrics, it has been found that:
The Balance gives more cushioning and breathability than Rhythm. The Balance also costs more than the Rhythm.
As for as durability is concerned, the Rhythm performs equally well as Balance.  The abrasion rate of both fabrics is also the same. I will suggest you go for Balance if your priority is breathing and aesthetics. Otherwise, Rhythm is best to save some bucks.