Herman Miller is a well-known American brand that manufactures high-quality office furniture, equipment, home furnishings, etc. Though all of its products are excellent, the Embody is one of its most liked ergonomic chairs. It comes in two different fabric upholsteries i.e. Sync and Medley. Both are premium high-end fabrics with a specific look, softness, texture, origin, and other properties. In this article, we will discuss Embody Sync vs Medley in detail.
The main difference between Sync and Medley is that the Sync is a 3-layer knit fabric with a smooth texture, more heavyweight, and a dense knit that offers more stretching and more softness while Medley is a 2D knit, lightweight fabric that has a more stiff textured surface.
Other than these two fabrics, you can also get Embody in Balance and Rhythm.
Embody Sync vs Medley: Differences
Features
Sync
Medley
Softness
More
Less
Texture
Less
More
Flexibility
More
Less
Width
55″
54″
Weight
24.1 ounces/linear
yard
16.4 ounces/linear
yard
Price
category
4
2
Country of
Origin
Lithuania
China
Differences
Softness
One of the first differences you will notice between Sync and Medley fabric is softness.
The Sync comes with more softness than Medley. By holding both fabrics in my hand, I can easily feel the difference in softness. The earlier was softer with delicate felt, while the latter was slightly stiffer and hard.
Texture
A fabric texture shows the surface or body of the fabric. The texture could be thin or bulky, heavy or light, hard or soft, etc. 
It has been found that the Sync comes with a smooth texture, and the Medley comparatively has a bit rough texture.
Flexibility
Sync has denser knitting and it offers more flexibility. The unconventional knitting method makes this fabric more stretchable.
Medley, on the other side, comes with less flexibility and less stretch.
Width
The fabric width is the distance from one selvedge to the other selvedge, measured perpendicular to the length of the fabric. The fabric width varies depending on the composition of the fabric. Most of the fabrics in the US have a width of 54 inches.
The Sync has more width of 55 inches, while the Medley has a bit less width of 54 inches.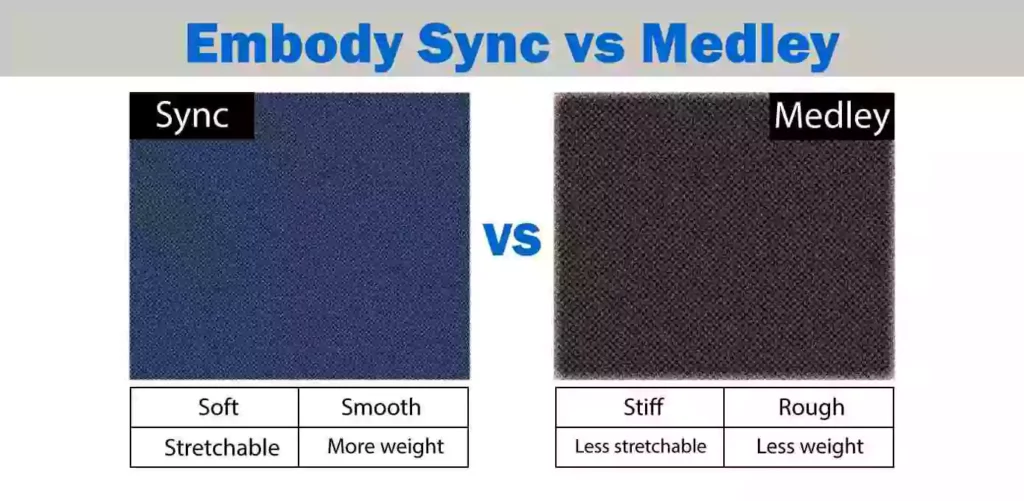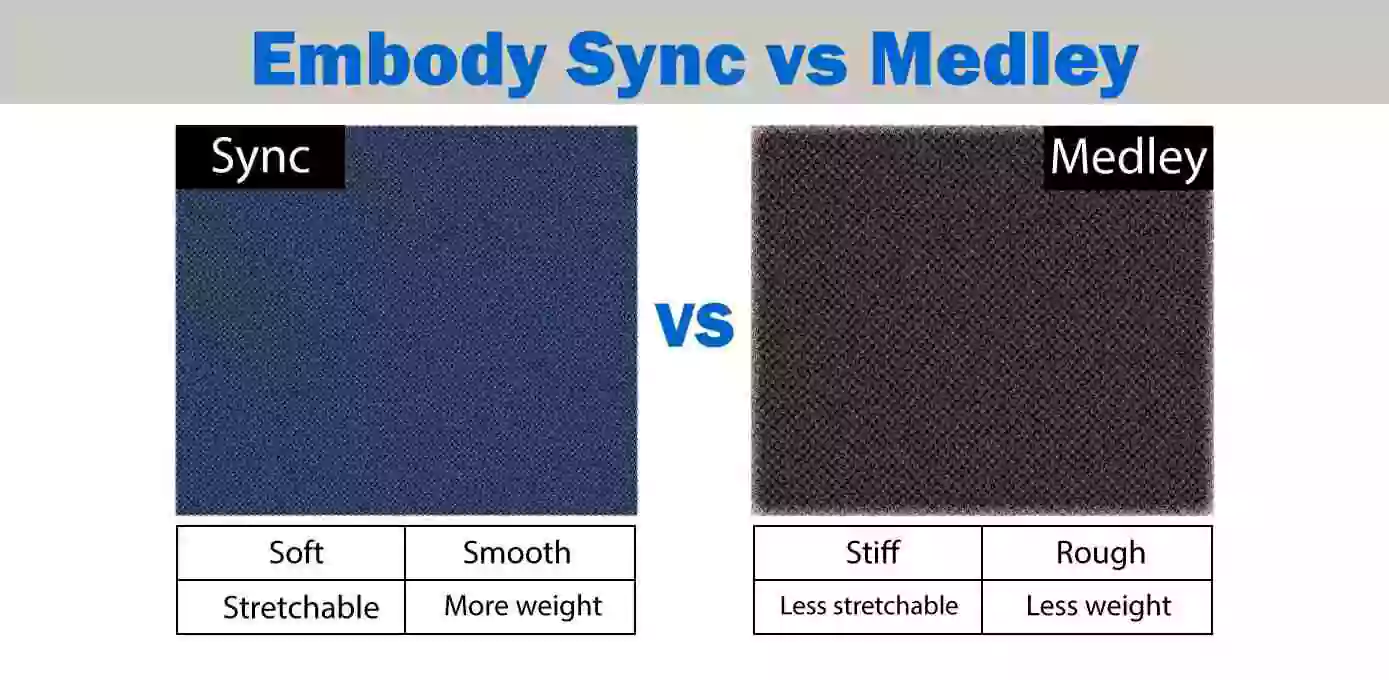 Weight
Fabric weight is a method to measure different types of textiles like polyester, silk, cotton, etc. By determining the thickness of the threads that make up the fabric. Based on weight, the fabrics fall into three categories.
Lightweight fabric: The fabrics with a weight of 0.3 oz. – 5 oz.
Medium weight fabric: The fabrics with a weight of 5.29 oz. – 12 oz.
Heavy weight fabric: The fabrics with a weight of more than 12.34oz.
By this classification, the Sync is a more heavyweight fabric with a weight of 18.8oz (24.1 ounces/linear yard).
Medley also comes as a heavyweight but it has less weight of 13oz (16.4 ounces/linear yard).
Price Category
Herman Miller has different price categories for each fabric. The more the category the more the price.
Sync falls in price category 4, which means it has more price.
While Medley has less price as it comes under price category 2.
Country of Origin
Both fabrics have different countries of origin.
Sync has Lithuania as its origin, while Medley comes from China.
Embody Sync vs Medley: Similarities
Features
Sync
Medley
Fabric
Composition
100% polyester
100% polyester
Abrasion
Resistance
Wyzenbeek, 100,000
double rubs
Wyzenbeek, 100,000
double rubs
Light
Fastness
Grade 4, 40 hours
Grade 4, 40 hours
Performance
100,000+ double rubs
100,000+ double rubs
Flammability
CAL TB 117-2013,
NFPA 260
CAL TB 117-2013,
NFPA 260, ASTM E 84
Cleaning
Vacuum clean
Water-based cleaner
Dry cleaning
Vacuum clean
Water-based cleaner
Dry cleaning solution.
Warranty
12-years
12-years
Similarities
Fabric Composition
The fabrics are either composed of natural fibers (e.g. cotton, wool, silk, etc.) or synthetic fibers e.g. acrylic, polyester, rayon, etc.). Each of these fabrics has unique properties.
Both Sync and Medley fabrics are comprised of 100% polyester fabric. Being one of the strongest and most wrinkle-resistant fabrics, it cannot be torn, pilled, and reshaped easily. The most durable fabric offers good stain-resistant properties. It has the ability to withstand many chemicals. The fabric offers easy cleaning and you can wash it at home.
Abrasion Resistance
The abrasion resistance of the fabric shows how tough the fabric is. It refers to the ability of a fabric to resist surface wear from rubbing. Fibers that have poor abrasion resistance usually wear down and weaken, thus affecting the yarn and showing signs of wear in fabrics.
Abrasion can be tested by two different methods i.e. Wyzenbeek and Martindale. Here, I will talk about the Wyzenbeek method.
Wyzenbeek method: In this method, the sample of the fabric is rubbed back and forth using an ACT-approved #10 cotton duck fabric as the abradant. Each pass back and forth is called a "double rub". The sample is rubbed until noticeable wear is observed. 
Both Sync and Medley have Wyzenbeek, 100,000 double rubs, which means each of these fabrics has been rubbed back and forth by a piece of abradant 100,000 times before it began to wear through.
Light Fastness
Light fastness refers to the ability of a fabric to resist fading when exposed to light. It is measured by a test called AATCC 16 option 1 or 3. Based on this test, the fabrics fall into three different grades.
Grade 1: High level of fading
Grade 4: Slight fading
Grade 5: No fading
Both Embody Sync and Medley come with grade 4 light fastness, which means they have a slight fading tendency when exposed to light for 40 hours.
Performance
Double rub count is one of the simple ways to measure the performance and durability of a fabric. Average upholstery fabrics with double-rubs of 15,000 to 25,000 have the capacity to last for years. However, commercial-grade fabrics come with a high number of double rubs, mostly from 100,000 to 250,000 double-rubs.
Both Sync and Medley have 100,000 double rubs to ensure heavy-duty performance. A fabric with such a number of double rubs not only has excellent durability but also offers more resistance against abrasion.
Flammability
To ensure fire safety, both Sync and Medley have passed different safety tests like CAL TB 117-2013 (California Technical Bulletin 117-2013), and the NFPA 260 test, a standard of the National Fire Protection Association (NFPA).
However, Medley has passed one more safety test called the ASTM E84 test, a standard of the American Society of Testing and Materials (ASTM).
Cleaning
Both Sync and Medley have requires the same cleaning methods. Please always perform a spot test before applying any method. Don't harshly treat the fabric like scrubbing, vigorous rubbing, etc.
Vacuum cleaning is recommended for normal cleaning like dust, dirt, hairs, etc. such a cleaning reduces the need for professional cleaning.
For water-based stains like fruit juices, soft drinks, or milk, use a water-based cleaner or mild soapy solution applied with a damp clean cloth.  Once done with stain removal, dry the fabric by using a clean cloth or towel. Don't use the scrubbing and hot water.
For oil-based stains, use a dry cleaning solution with the help of a damp clean cloth or sponge.
Like Embody, different types of chairs like dining chairs, patio mesh chairs, etc. require special cleaning treatments.
Warranty
Both Embody fabrics come with a warranty of 12 years to give you more satisfaction.
Conclusion
Based on the features discussed above, we can say both Sync and Medley fabrics are equally performing and durable. Both shared multiple similarities with each other. However, they differ from one another in certain features like softness, texture, flexibility, weight, etc.
If you are looking for a soft and smooth textured fabric that has more stretching, and more flexibility, Sync would better suit you.
If you like a stiff and more textured fabric that is cheap yet very durable, I suggest you go for the Medley.